Should You Have A Class T-shirt?
There is something that printed Class t-shirts have in common. They create a unique identity of their own, which leaves a strong impression. 
It's not about the outfit, it is our way to show our bonding with our classmates as a team – That was one of the key takeaways for our customer who had printed their shirts with us. 
If you are still thinking about whether to customise your unique T-shirts for your class, look no further. TJG Print have worked on many customisation projects with schools for their Class T-Shirts, Group T-shirts and CCAs. 
With experience accumulated over the years, we are able to put ourselves in your shoes to understand your needs and pre-empt issues before you encounter them. Trust us, we are one of the best T-Shirt Printing Company in Singapore.
In Singapore, it has become a custom for Primary schools, Secondary schools or tertiary schools to have their unique tees printed every year, whether it is for Class tee, Camp shirt or CCA. There is something for every group, and graduating class who want a memorable shirt for keepsake.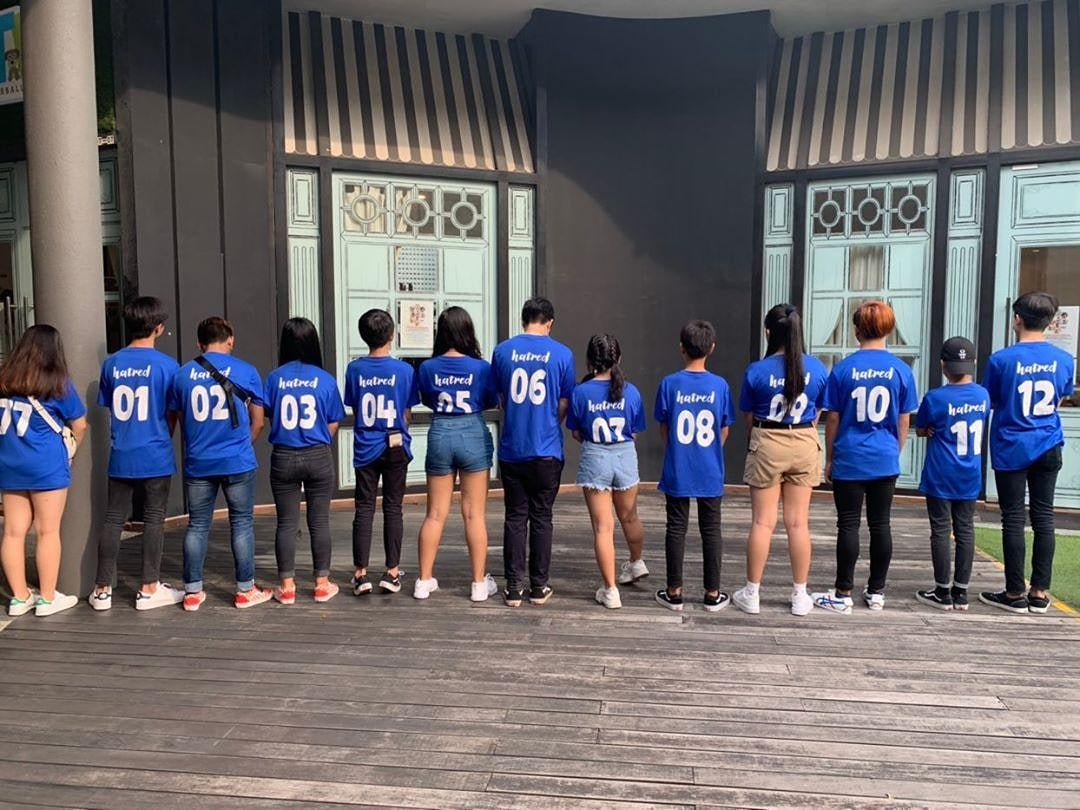 Here are 6 Benefits of Class T-Shirt Printing
1) Class Bonding 
We spend most of our grown-up years with classmates and sometimes the same teacher gets assigned to the same batch of students. They are there to motivate you as you struggle to complete your PSLE, N-Levels, O-Levels or tertiary education.
Friendships from school last a lifetime, like special bonding, a custom shirt gives a sense of belonging and identity of a trusted group and rekindle camaraderieship for the alumni. 
Planning for a class t-shirt may encounter hurdles and differing opinions but the end result is always a fulfilling and noteworthy experience.  Pride, effort, inspiration, cohesion and friendship comes to your mind when everyone starts to don their uniquely designer t-shirt together. 
Whether you are an alumni or a student, the shirt is a piece that is wearable for a long time. A memorable gift and a form of souvenir which stays in your heart forever.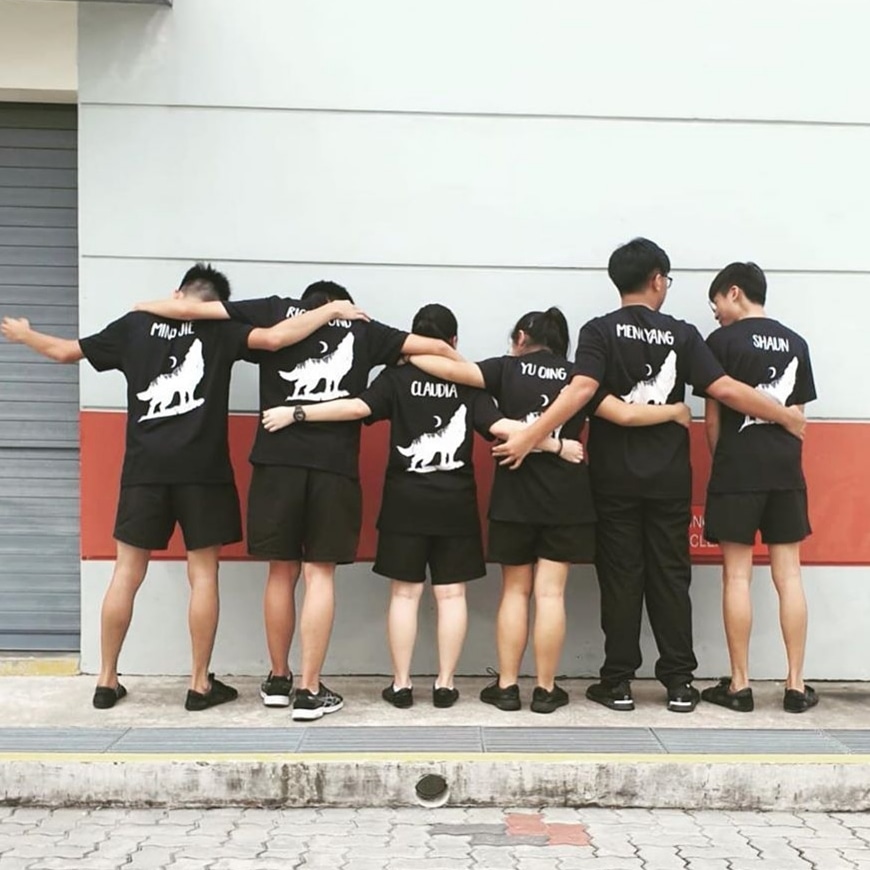 2)

Foster School Spirit

 
When starting at a new school, many of us may feel stressful and exciting at the same time.  In an unfamiliar environment where you might not have any friends yet, having a customised school distributed t-shirt helps newcomers feel welcomed and create a bond between its fellow students and the school. 
 

3) Publicity For The School



A good quality t-shirt with the school logo is one of the most cost effective ways to heighten school branding awareness, showcase school achievement and convey the school's message as students wear their school pride in the community.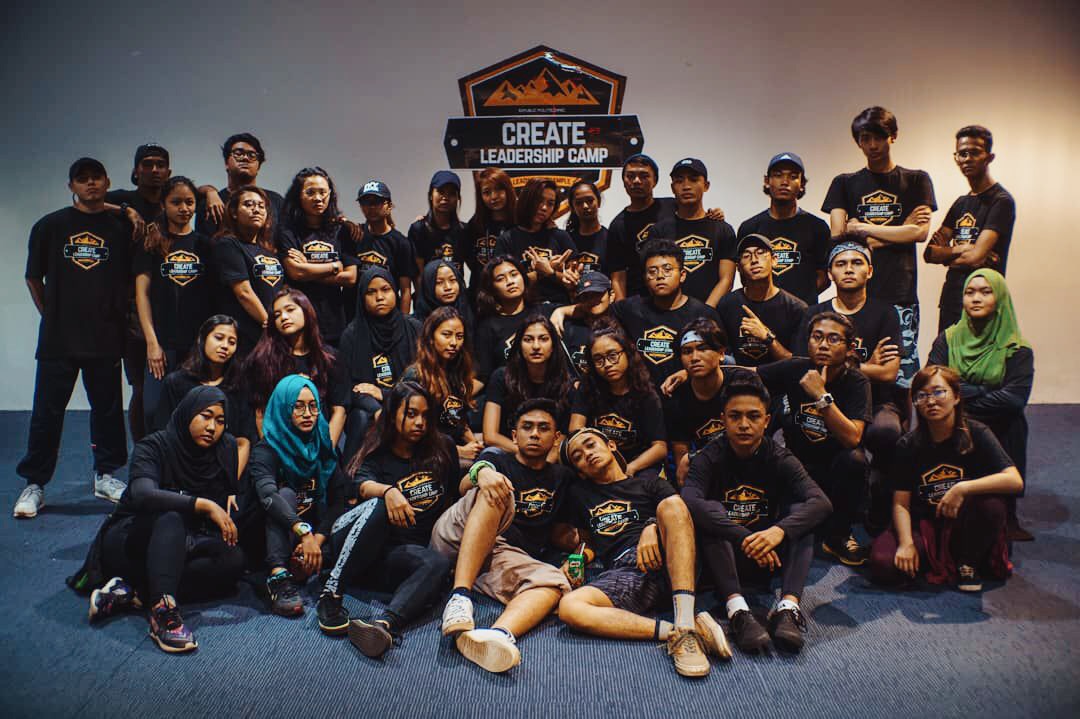 4) Sports Day Attire



Sports days are great for students to showcase their individual strength and collaborative efforts as they work towards a common goal. 
There are different ways to be creative when customising t-shirts. Just like how colours of a rainbow come together to form a beautiful arc. Showcase your camaraderie and team spirit with your uniquely designed t-shirts.  Additionally, where different groups come together in unison, donning variants or colours for your special school event also creates a good photo opportunity which holds memory for a long time. 
Be spoilt for choices as we carry an array of performance apparel made of moisture wicking material t-shirts.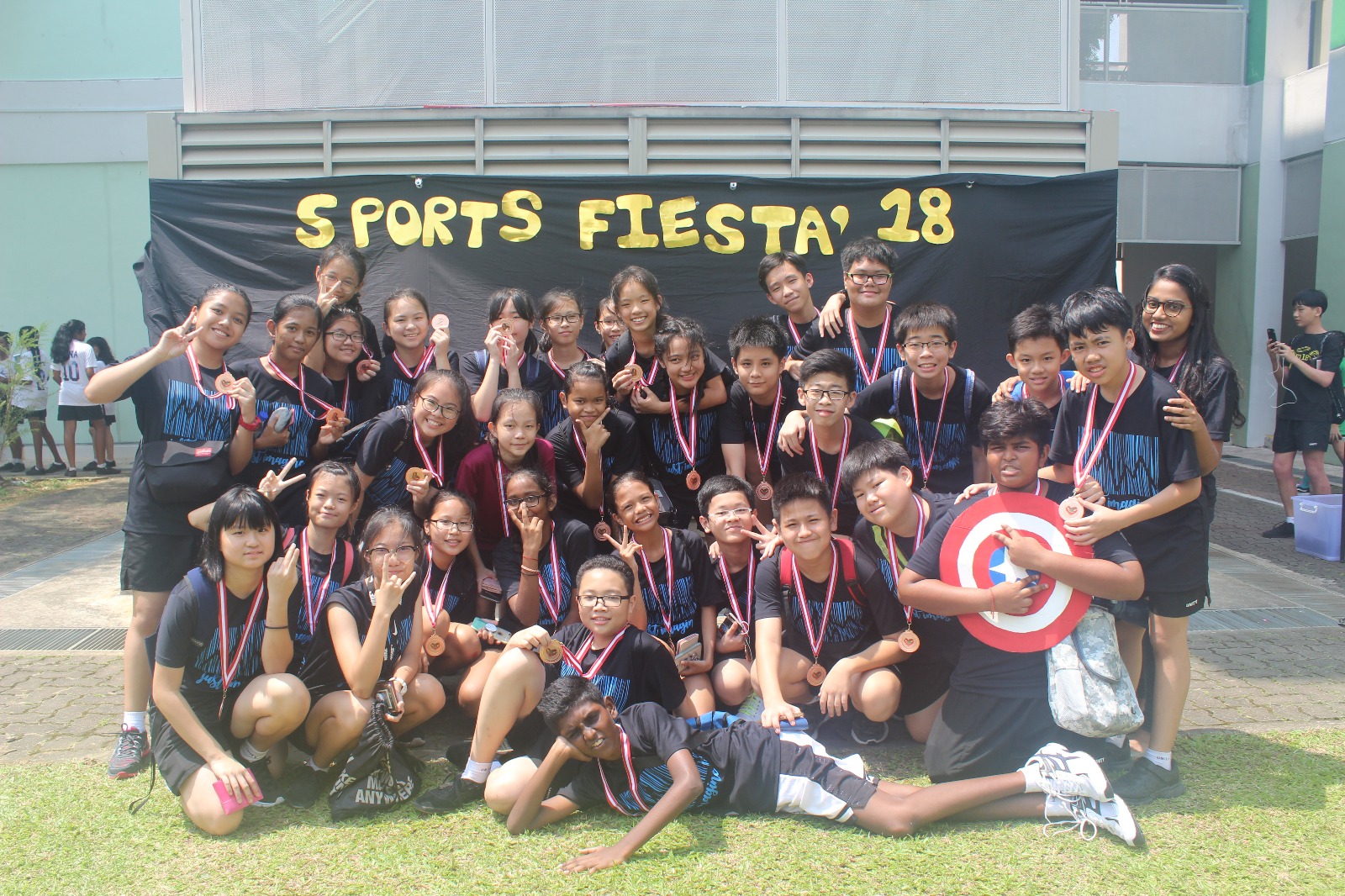 5) Safety For Group Outing and School Trips
Whether you are a teacher or a student, the safety of everyone are of paramount concern for a school outing.
Should one stray away from the group, a custom T-shirt helps with identification as you stand out from the crowd, making it easier to spot one another. For larger group excursion such as camp tees or orientation tees, using bright t-shirt colours helps in easier classification and more noticeable during night activities.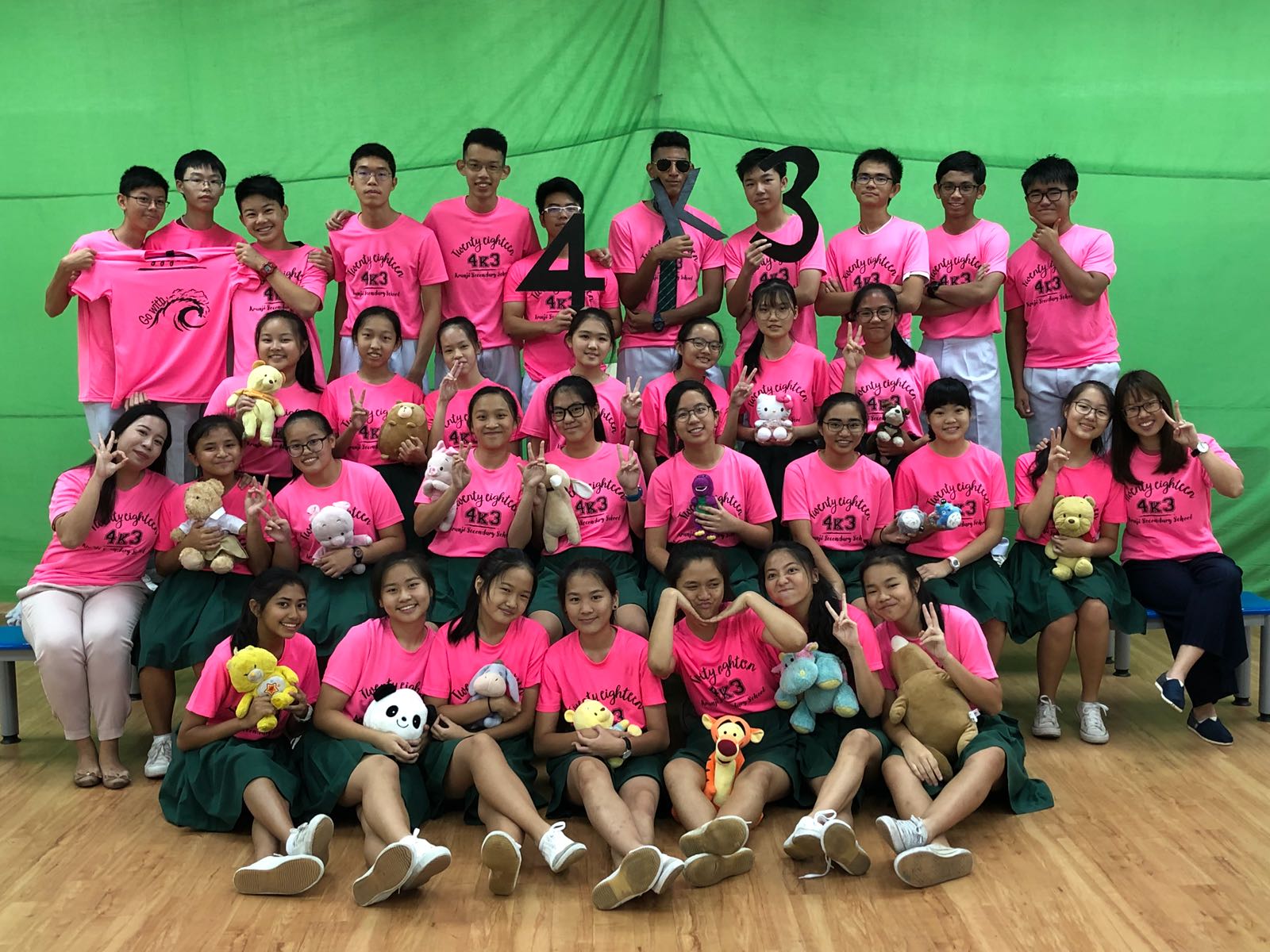 Bright & Sparkling Neon Pink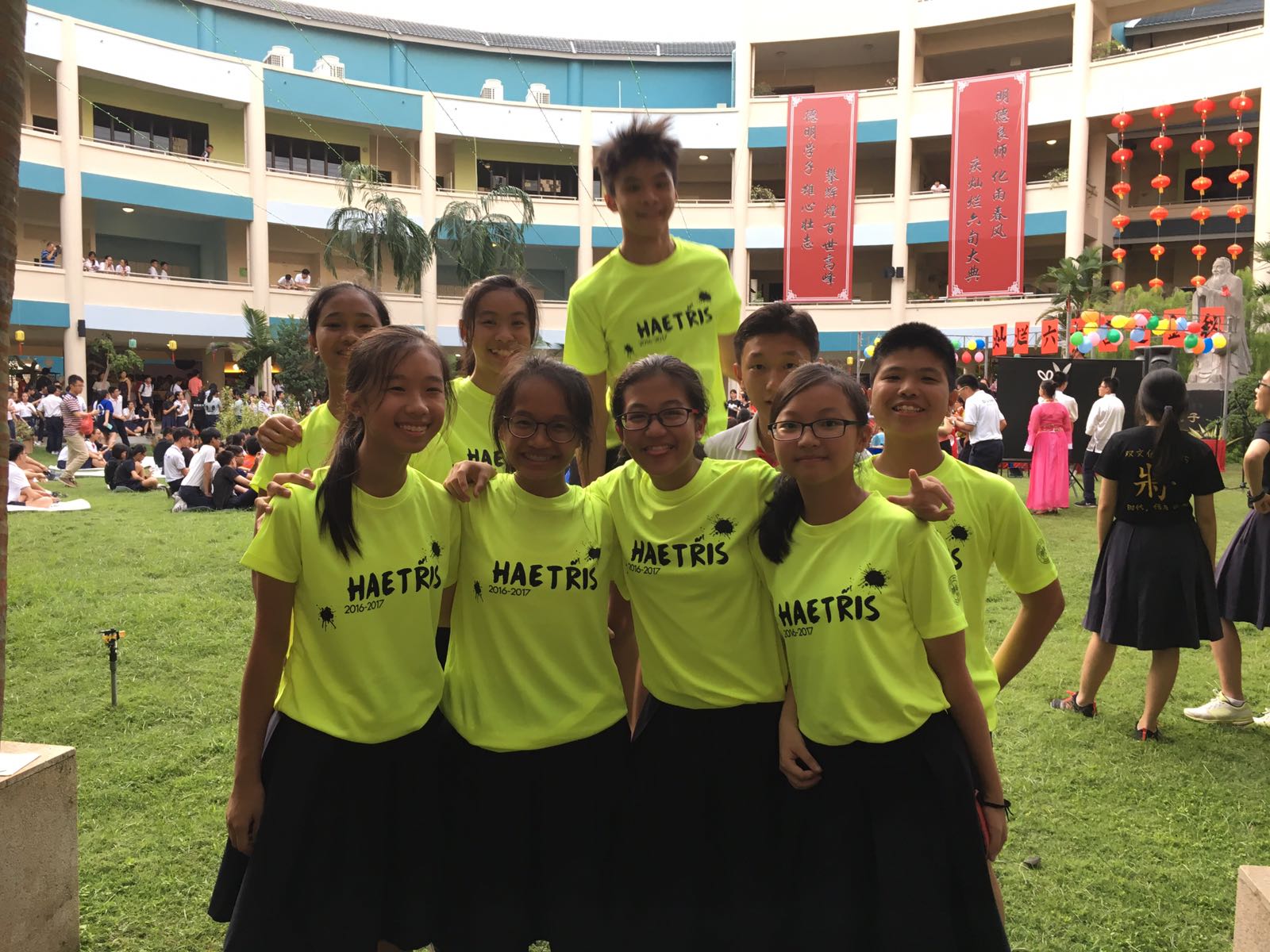 6) Comfortable Uniforms
As part of attire and grooming, most schools require students to wear their uniforms in school at all times. However, exceptions are given on special days like School events.
As a result, breaking away from the monotony of the day-to-day uniform is one of the things that students look forward to. Without sacrificing the "uniform" look, a custom t-shirt is also more comfortable as you could choose to produce these shirts in variants of materials such as cottons or dri-fits. You may want to know more details into the difference between Dri Fit Vs Cotton
Factors That May Affect Your Cost 
While it is important to have an appealing design, we also believe in balancing design and cost at a reasonable rate for students. We have a ultimate guide to cheap custom t-shirt printing article which provide tips to help you save cost. Some factors that may affect the pricing of your Class Tee includes: 
Design And Colour
The number of colours used in your class t-shirt design will affect the pricing. The more colours used, the more expensive it will be. To keep the cost of the shirts low, we usually recommend 1 or 2 colours. This could be a small size logo on the left chest, sleeves area, front and/or back. 
Usually, we will use silkscreen printing on class t-shirts as the print quality is very durable and long lasting. Best point is, it is very cost efficient for large quantities (example class room size of 30 pax). 
We also understand there are a huge popularity in customising personal names and numbers. This will be done in heat transfer print method. We specialise in this field and we can guarantee top quality heat transfer print with little concern and worries about peeling and cracking.


Alternatively, we offer a wide range of printing methods for your selection or printing needs. 
Do note that price varies, depending on the type of apparel material.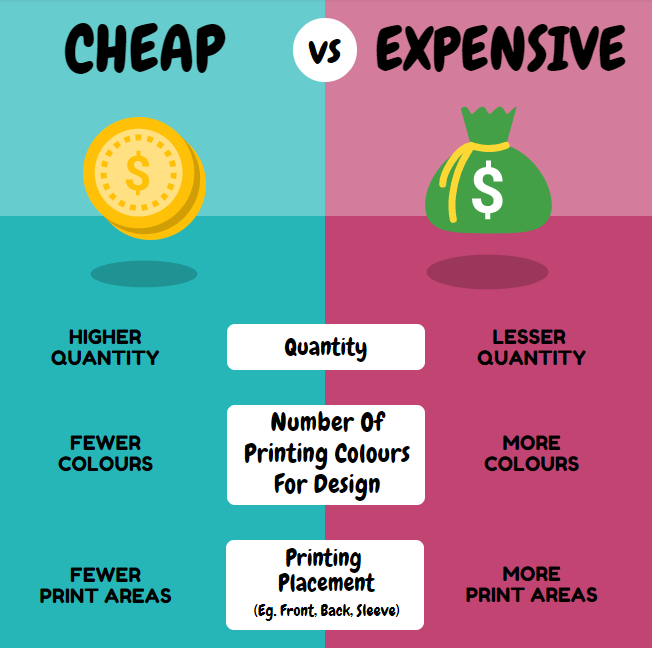 Location of print 
Number of print locations matters. More location involves more set up cost, colour and thus more expensive. 
A small logo on the front of the left chest and an A4/A3 size design on the back equals 2 locations. 
Quantity
For quantity, it is safe to say for most applications like silk screen printing, heat transfer or embroidery. The larger the order quantity (in same design) the cheaper and more budget-friendly it will be. 
Our best sellers for Class Tees selections are the cotton T-shirts and Dri-Fit Round Neck T-shirts. Another popular series are windbreakers which are usually printed by CCA, performance arts and club team and school events.

Find out more on the different types of apparels we carry. We also have a dedicated article for the different types of dri fit material which has been a very popular apparel choice among class T-shirts nowadays. From picking the right fabric and getting design right, we are able to customise a package to suit your budget. 
Get in touch with us via Whatsapp or email us at [email protected].