Silkscreen Printing is the process of involving ink being pushed through a mesh and onto the T-Shirt or apparel with a frame. This frame is also known as mold blocks or stencil in this printing industry. During this process, only one colour can be applied at a time.  
With additional colours to the design or multiple printing location, a new stencil has to be set up. Thus, it is more economical to have lesser printing colours and fewer printing locations. Another factor to consider is quantity. With higher quantity, the substantial cost of setting up the stencils will be shared across. Hence, pricing is cheap when printing in large quantity. (Learn more for tips to cheap custom t-shirt printing)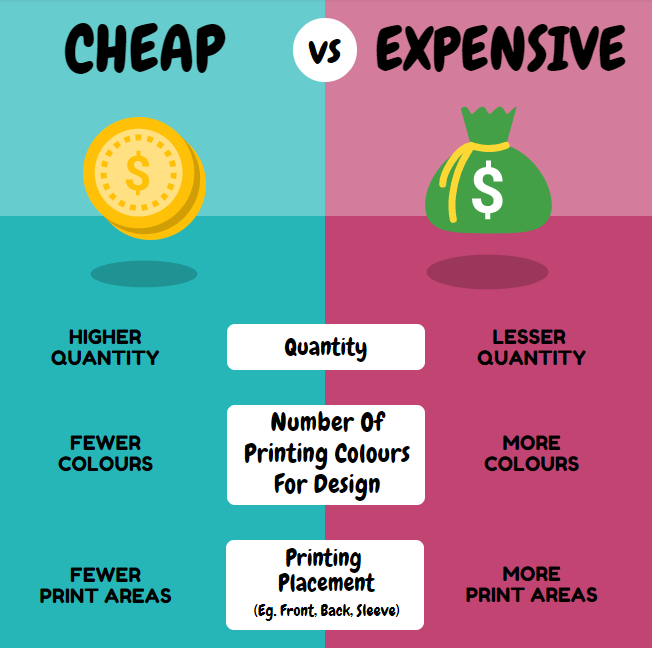 Why use Silkscreen Printing? 
Silkscreen printing is one of the most widely used printing methods because of its capability to print onto different T-Shirts, apparels, material and gift products. They are common usage for corporate company uniforms, school CCA & Class tee shirts as designs imprinted onto the shirts are vibrant and very durable. When we mean VERY DURABLE, we are not joking. The prints can last almost thousand over washes or as good as life time.  
Silkscreen printing is also preferred because of the quick and efficient process of printing. One design stencil allows it to be reproduced multiple times onto different garment. Hence, at TJG PRINT, our lead time for silkscreen printing are lightning fast. We can be as quick as 2 days.  
Benefits of silkscreen printing :  
Very durable; resistant to many washes  
Very cost effective for larger quantities  
Wide variety of colours. Able to match as close to a pantone colour.  
Where silkscreen printing derive from?  
Dated hundreds of years ago, the name "silkscreen" derived originally from the silk material used in screen printing. However, this method of print has evolve through the years and it can been printed on numerous material such cotton, polyester, leather and more.   it is widely used in corporate and arts industries. Its highest demands are in printing images and designs onto t-shirts, tote bags, corporate gifts and other commemorative items.  
What are the types of Silkscreen Printing? 
1. Spot colour silkscreen printing  
Spot colour silkscreen printing is one of the most common printing technique in the industry.  An ink colour is applied on a stencil with a mesh and onto the apparel.  
Spot colours are good for producing designs without the use of excessive colours or effects on Class T-Shirts, Company logo, logos, Text, Fonts (caligraphy). Due to the nature of print, spot colour is capable of applying vivid colours bringing lively designs on apparels. It is also possible to match as similar to pantone colour code.  
This method allows vibrant colour print of the design at economical price if quantity is large. Our recommendation is to keep the design to less than four colours colours so that pricing remains affordable.  
2. Halftone Printing  
Want beautiful gradient colour on your shirt? Halftone printing also known as toning effect is capable of bringing out the effects of gradient colour. This effect is achieved by printing small little dots in one colour which creates a gradient effect. Multiple spot colour and multiple halftone colours can combine in the design too.  
On closer look, these small dots are visible. When view from a distance, it is not visible and appears as a homogenous visual gradient design. 
3. CMYK Printing 
CMYK silkscreen printing is the most complicated printing method. This process combines the four colours (Cyan, Magenta, Yellow and Black) to produce a fully coloured design. CMYK printing mixes colours to achieve another colour. For example, by mixing Cyan and Yellow to achieve green colour.  
It is a savvy way to save cost. Suppose a design have 8 Colours. Instead of using 8 Spot Colour Silkscreen print, we can minimize by doing CMYK Print which uses only 4 colours. At the same time, the almost similar colour effect is produced.  
Find out more about it here: 
Where can my silkscreen printing be done on an apparel ? 
Logo Size Placement
Left Chest / Right Chest / Back Top / Left Sleeve / Right Sleeve

Front & Back Placement
A4 Size Portrait or Landscape (28cm x 20cm)
A3 Size Portrait (39cm Height x 28cm Width)

What products can be printed with silkscreen printing?  
Feel free to drop us a message if any of the items you want to customise are not covered in here.  
What is the lead time?  
At TJG Print, our lead time for silk screen printing services is less than 10 working days from the time your order is confirmed. Express printing can be done within 2 days.  
What is the minimum order?  
We accept a minimum of 5 pieces for silkscreen printing.
How should I wash my silkscreen printed apparels?
You can wash as per normal in washing machine. Silkscreen print last thousand over washes. If you wish for longer durability, it is recommended to wash inside out, no tumble dry or any heat element to it.


What other print methods we offer?

-Embroidery
-Digital and Vinyl Heat Transfer Print