"Why does my printed shirt peel or crack?"
"Will they crack over time?"
 Many times, having heard from our customers who enquire with us, these are some of the concerns that customers have and it has become a usual worrisome issue. 

Such situations of peeled prints are mainly related to vinyl and digital heat transfer printing. There are many reasons behind the cause of these but it is usually one main cause – the usage of cheap vinyl film material so as to save cost.
 
Quality is vital and it can make a difference in durability. Poor quality vinyl films have weaker adhesive and poorer material makes it susceptible to damage such as tearing and peeling.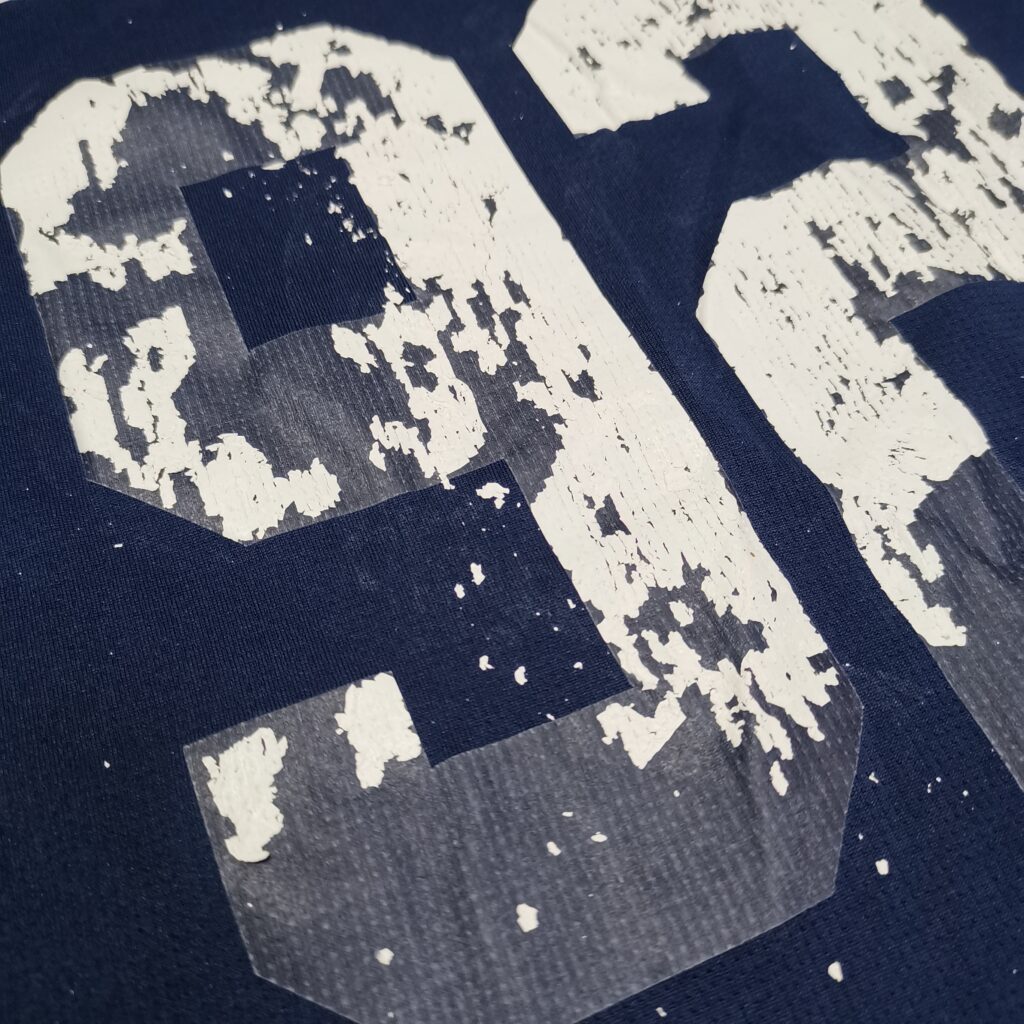 Example of poor quality vinyl films result
At TJG Print, we are honest & trustworthy T-Shirt Printing Vendor and we use PREMIUM quality PU vinyl transfer films. In our previous blog article on "Differences Between Vinyl & Digital Heat Transfer Printing?", we discussed PVC vs PU Films where the latter is a more superior material. 
The adhesive is strong yet lightweight and as a result most of our prints can last 40-50 washes or more and are comfortable to wear. 
With proper care and washing, your shirt can even last hundreds of washes. However, with all things, expiry dates are unavoidable. These printings have a lifetime and they will age with time, wear and tear and many other factors. Head to Frequently-Asked-Questions (FAQ) to understand more details about our Custom T-Shirt Printing Service
It brings us great satisfaction when we see our customers wearing our printed shirts in Singapore. We have customers commending our quality of prints such as students who have printed with us since secondary 1 till 5 and yet their first printed shirts have lasted through their secondary school lifetime and the vinyl heat transfer prints like custom names and numbers are still intact.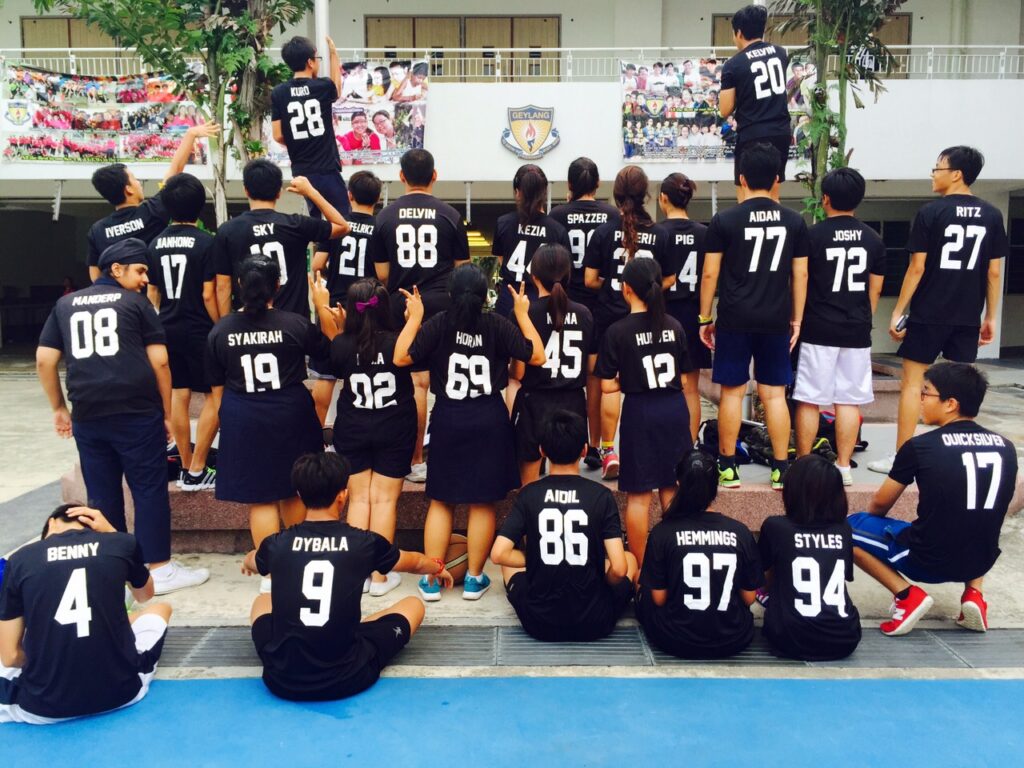 What happens if my print peels off slightly? 
For digital and vinyl heat transfer printing, If the prints are still intact and not completely peeled or washed off, you can use simple home tricks to remedy them. Since these techniques of print are transferred onto the shirt via heating, you may use a home iron to reheat the peeled prints. 
Rule number 1 – NEVER iron on the prints directly
Iron the prints inside-out of the shirt OR

Place a cloth over the prints and iron it 

Apply a mild pressure with the iron 
The outer surface of the prints have to be protected and cannot be ironed on directly as it will damage and melt the prints. As these films are coated with a special kind of glue on the opposite side, the trick is to apply indirect heating such that the glue will melt, transfer and adhere to the fabric of the shirt once again.
 
What happens if your digital or vinyl heat transfer printed shirts are crumpled? 
Fret not, you can use the same home trick remedy above as well. This should do the job of getting your prints smooth again.
Why do the prints crack?
Such situations of cracked prints are related to silkscreen printing. For vendors that use low quality silkscreen inks, the cracks of print can even be noticed after a couple of washes. At TJG Print, we use high quality silkscreen inks as we firmly believe in bringing the best quality at an affordable price to our customers.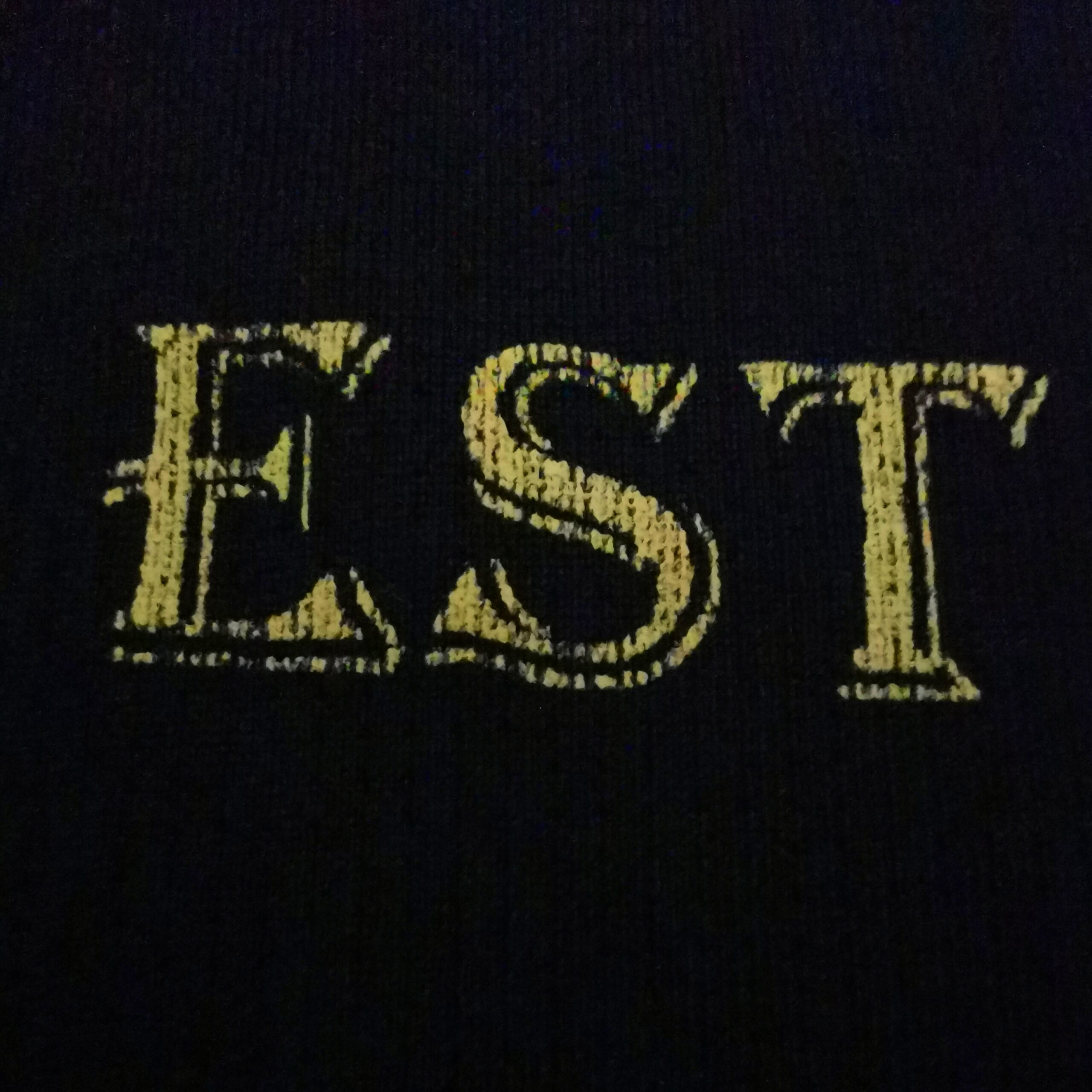 Cracked, poor quality silkscreen
Another reason can be insufficient drying and curing of silkscreen ink. At TJG Print, we perform two waves of drying the ink and finish off with a heat press so as to ensure the prints are dried off with quality and durability assured. 
However, there are methods such as crack effect printing which are used for fashion and merchandise. They are purposely designed with cracks and flakey effects. 
These days, with advancement of technology, washing clothes using traditional technique (hand wash) is rarer. Many Singaporeans have the luxury of a washing machine and dryer to help save time, hassle and effort. 
If your shirts are silkscreen printed, there will not be much qualms about washing them as their lifespan of prints and durability are very long. You can throw your shirts into the washing machine. 
For digital and vinyl heat transfer printing, it is always recommended to wash inside-out in the washing machine and never to wash in warm water or tumble dry. 
Regardless of the print technique used, it is always recommended to check the garment instruction on the tag, and practice general techniques such as washing your t-shirt inside out. 
General wash care tips: 
– Wash your t-shirt inside out 
– Do not iron over print 
– Using high temperature water can cause your printed shirts to peel or crack
– Do not bleach as they contain harmful chemicals that may react with vinyl 
For further clarifications and enquiries,  drop us a message on Whatsapp or email us at [email protected].