Browse our Towels collection which are available in various single-coloured and size option. Made of high quality cotton material. These are perfect choice for sports event, corporate company gift, wedding, school activities and many other purposes. They can be customised by Silkscreen printing, and Embroidery method.
Latest Guide to Customised Towel Printing and Embroidery in 2024  
Towels are more than mere functional pieces of fabric, they are integral to our daily lives which serves a wide range of purposes. Whether you are using them to dry off, tackle household cleaning, create a luxurious spa-like experience, or simply stay comfortable and dry, towels offer a versatile canvas for customising. Towel customisation offers a canvas for branding opportunities to promote your business and enhance customer experience.
if you are looking at cheap customised towel printing, you are in good hands here. In this article, we will explore the ins and outs of customising towels with your brand logo or name. You can achieve this on high-quality towels, and the cost starts at just $2.30 per piece.
They make for perfect corporate gifts during roadshows, promotional events, and campaigns. Our custom towels are a hit among individuals, sports teams, and businesses looking to craft distinctive and unique towels.
Now that we have explored the various uses of customised towels, let's get into the fundamentals of what towels are and what materials they are typically made of.
At TJG Print, we carry different types of towel for customisation. Towels are commonly made of cotton, though alternative materials like linen, bamboo or microfiber are also used. Regardless of the material, the primary purpose of a towel is to provide absorbency, ensuring that you and your belongings stay dry.
They can be made in various ways and may consist of two layers or more depending on the specific type of towel and its design. In general, most bath towels and hand towels are typically single-layer, with one side being more textured to dry yourself and the other side being smoother.
The number of layers in a towel varies based on the intended use and manufacturer's design.
What Are The Purpose of Towels?

Towels serve a wide variation of purposes, including face towels, hand towels, sports towels (gym towels) and bath towels.
Each type of towels come in a variety of sizes and features:
Face Towels: Typically small and square in shape, these towels are known for their plush quality, making them ideal for gentle washing and drying the face.
Hand Towels: Slightly larger and more durable to the touch, hand towels are perfect for drying freshly washed hands.
Sports Towels: Compact enough and lightweight to be easily managed and carried around the gym or outdoors, these towels are large enough to effectively absorb sweat during workouts.
What Are The Differences in Towel we offer?

Cotton Towels:
Cotton towels have been a popular and familiar choice. Thanks to their inherent softness and natural absorbent qualities, they are comfortable and gentle on the skin. Cotton towels can be found in home settings, fitness centres and spa boutiques where comfort and soft touch are essential. They also have practical use in household cleaning and for drying off surfaces.
Microfibre Towels:
Microfibre towels are gaining popularity, particularly as sports towels. They excel in absorbency and are known for their quick-drying properties, making them an excellent choice for sports athletes who need to stay dry during workouts. Microfiber cloths are lightweight, compact and highly effective in wicking moisture away from the skin
Towels come in different weight and density, it is an important factor that determines the "feel", absorbency, and durability of the towel. The measuring units are grams per square metre (GSM). The higher the GSM indicates a thicker and denser towel. While a lower GSM means lighter, thinner.
To illustrate:
A towel with a 400gsm is considered a thin towel, thin and light. They are less plush and are used in scenarios such as at the gym or beach.
Medium towels may range between 400-600gsm, which strike a balance between thickness and practicality. These are suitable for daily use in homes.
Thick towels range 600gsm or more. They are incredibly soft and fluffy and are often associated with luxury and are commonly found in high-end hotels and spas.
In our catalogue, there are two different materials: Cotton and Microfibre.
Both materials offer great absorbency, however they have unique characteristics that make them suitable for different purposes.
What Printing Methods Are Available For Towels?

Under our ready-stock gifts catalogue, you will find a dedicated towel section that includes both cotton and microfibre materials. These are popular choices for customising with custom names and designs.
At TJG Print, you can explore a wide range of ready-stock products available for customisation. Additionally, we offer different printing services to cater to your customisation needs.
Available Printing Customisation Services include:
Silkscreen printing
Digital Heat Transfer
Embroidery
Made to Order (Dye Sublimation)
How To Customise Your Design On Towels?

When it comes to presenting your design on a towel, there are two primary methods: Embroidery and Silkscreen Printing. Share with us the design so that we can advise accordingly on which print method best to go with.
Embroidery involves using a needle, solid colour thread, data and machine to intricately weave your design into the fabric. This method requires a high level of workmanship and precision, resulting in an elegant look that enhances your branding for premium gifts. The wonder of embroidery also allows customization of unique names which makes gifts very personalized. Custom Names Embroidery has been increasingly popular as they are affordable and meaningful.
Another method, silkscreen printing which utilised ink, a mesh screen, and a mold block to apply the design to the fabric. However, it is worth noting that this method may not be the best choice for Cotton Towels. Cotton Towel fabric typically are furry and doing silkscreen on it may not have the best clarity and small details may smudge.
Examples Of Past Client's Project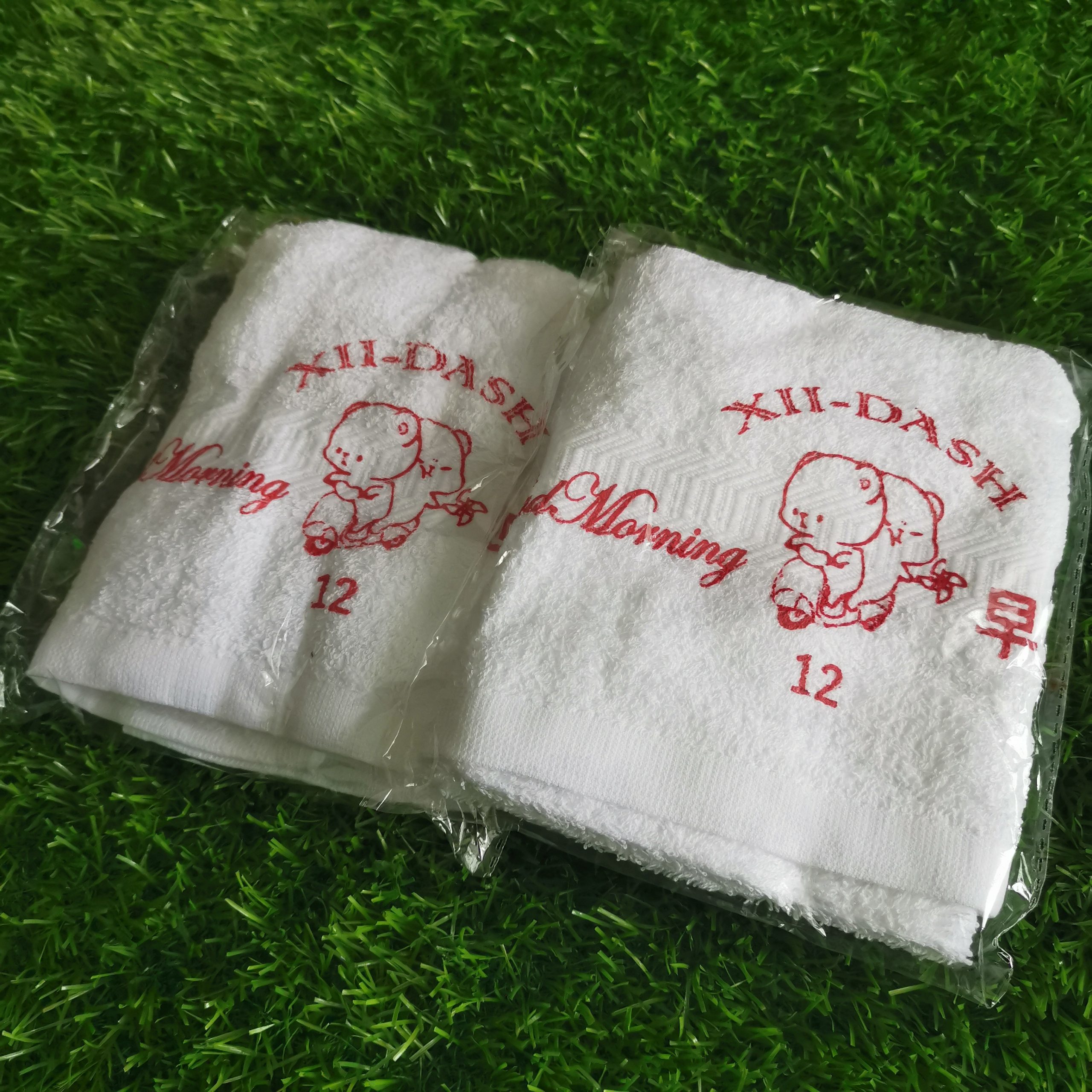 Silkscreen Printing on Towels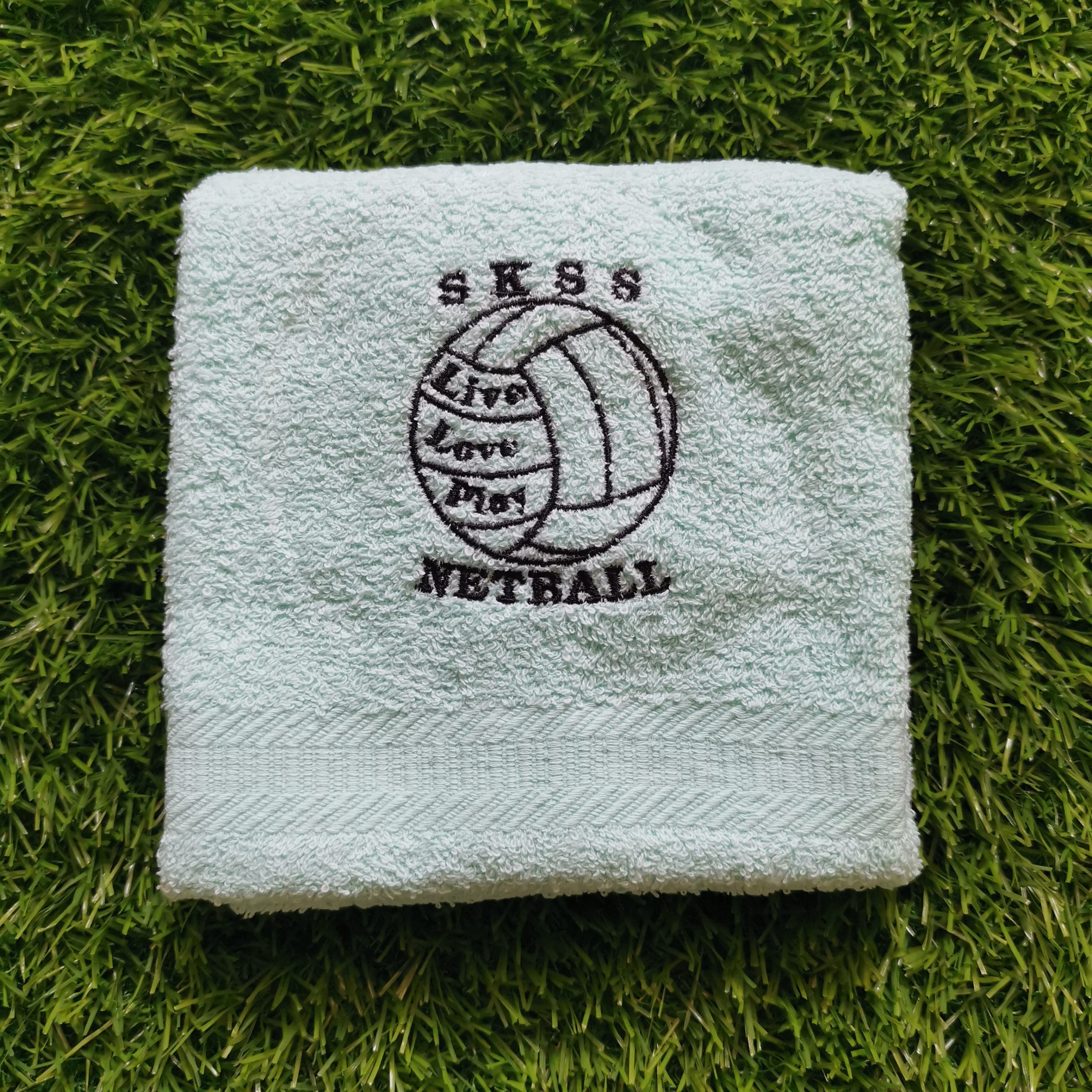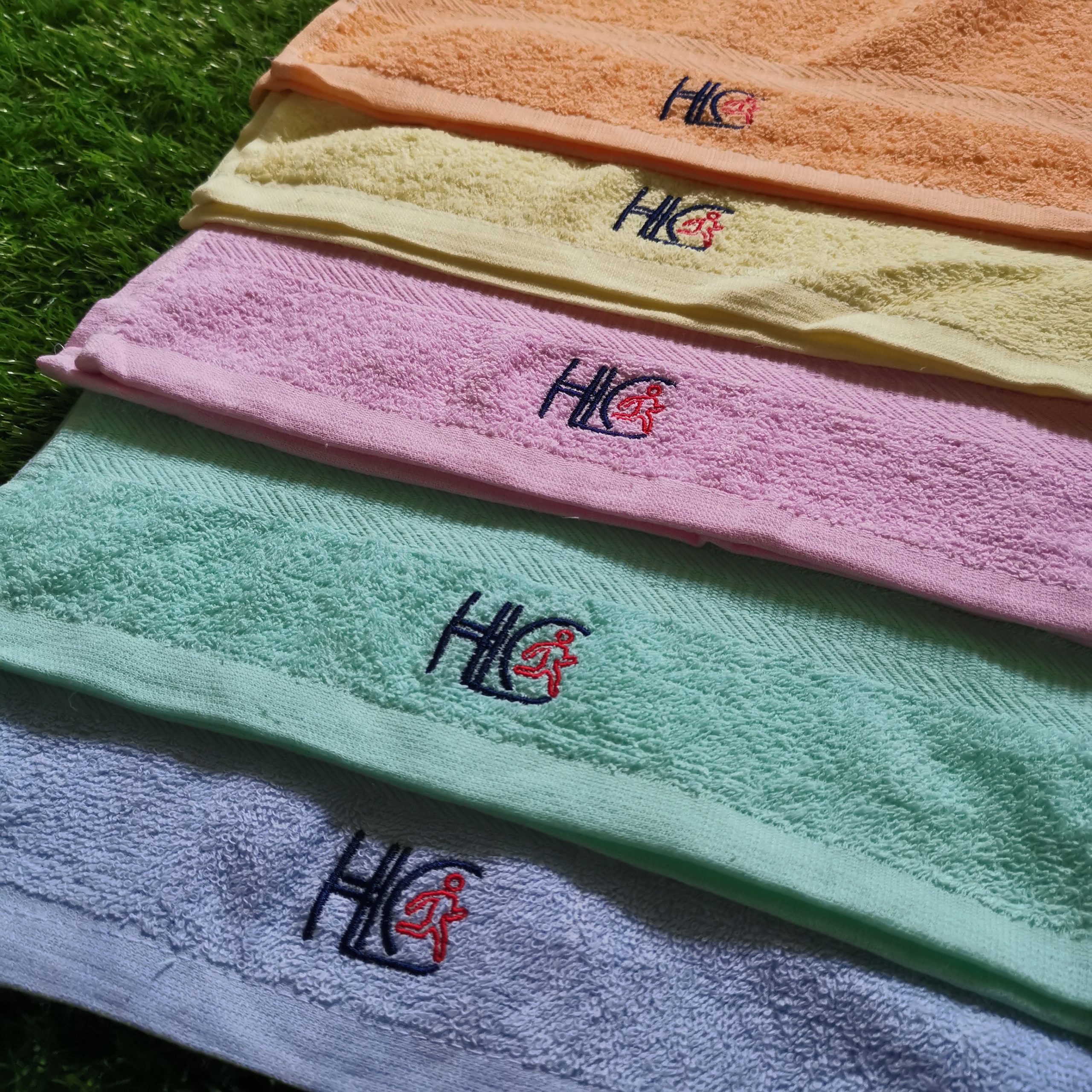 Embroidery on Different Coloured Towels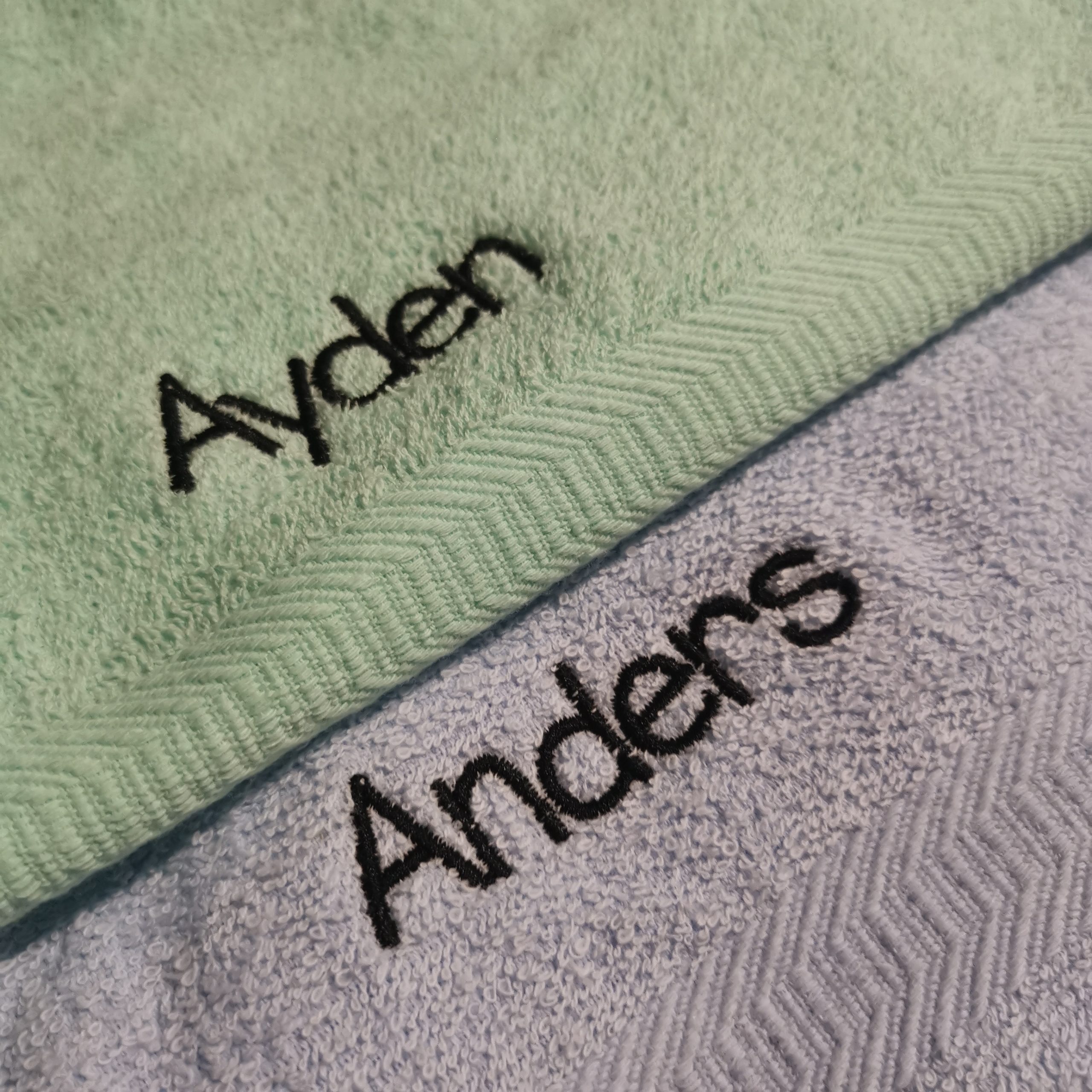 Custom Names Embroidery on Towels
Important Tips To Consider

When deciding how to apply your design to a towel, there are several factors to take into account:
Design complexity: If your design is intricate and detailed, screen printing may be a better choice. If you have a simple logo design, embroidery can be an excellent option.
Durability: If you're looking for long-lasting customization that can withstand frequent washes, embroidery tends to be the more durable option.
Budget: Silkscreen printing is often more cost-effective for larger quantities, while embroidery can be pricier but offers a premium gift for your recipient.
Brand image: The choice between Silkscreen printing and embroidery should align with the image you want to project for your brand. Embroidery can convey a more refined, classic image, while screen printing allows for more creative and colourful designs.
Our lead time for Towel Printing and Towel Embroidery is typically two weeks or less from the time your order is confirmed. If you require an express printing service or have specific timing needs, please feel free to reach out to us and we will do our best to accommodate your request.
Our minimum quantity (MOQ) starts from 10 pieces per design. 
In conclusion, whether you are aiming to make a memorable impression with branded towels or create unique gifts with a lasting impact, the choice of material, designs, and method all plays a role. We hope you have gain more insights on the tips of custom towel printing in Singapore.
As you explore your options, we are here to assist you in crafting the perfect customise towel solution tailored to your unique needs.
To get started, simply browse thru our gift product and select the type of towel that suits your requirements, send us a design and relevant information and our sales team will be in touch with you promptly.