Vinyl or Digital Heat Transfer
Before you decide to create a T-Shirt, it is beneficial to understand which printing technique to use.  
Heat transfer printing has been around for decades and it is a widely used method to decorate apparel. We use a heat press machine and vinyl films to transfer graphics or designs onto a shirt. 
Today, we shall talk about the difference between Digital Heat transfer and Vinyl Heat transfer. Both primarily use a heat press machine. 
Vinyl heat transfers involve the use of single coloured vinyl paper. First, a design is created using a special software. Next, a cutter machine plot and cut out the designs on the vinyl film. Lastly, it has to undergo a manual weeding process. In printing context, weeding means the process of removing excess vinyl films such that the design is ready. It is done manually using special weeding tools or physically with hands. Lastly, the weeded vinyl film is flipped and pressed onto the shirt with the aid of the heat press machine.
Find out more in this video below :

Vinyl Heat Transfer paper usually comes in a roll of homogeneous single coloured film. Basic colours such as Black, Red, Yellow, White are common colours which printers usually carry. At TJG Print, we have a wide variety of colours to choose from (Enquire with us on availability). We also offer popular special colours like Metallic Gold, Holographic and Metallic Rainbow and Neon Pink.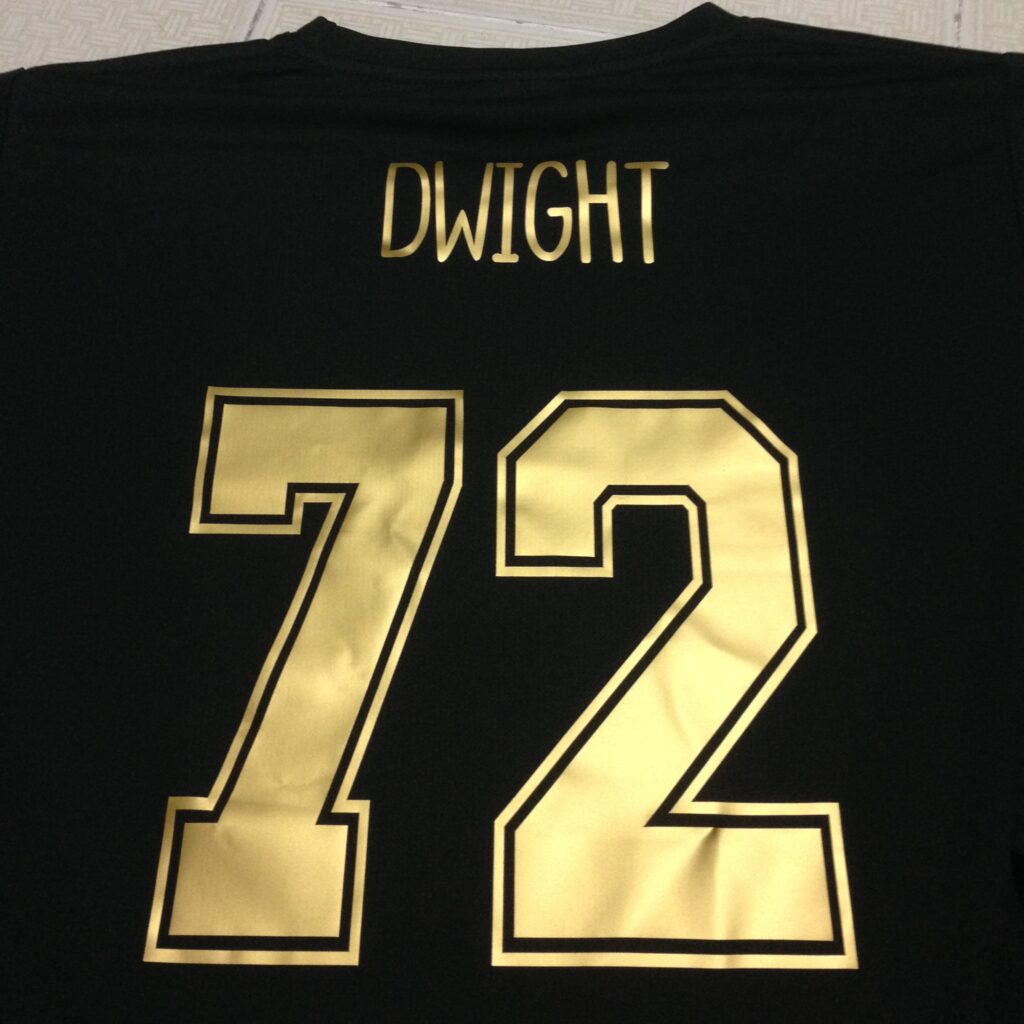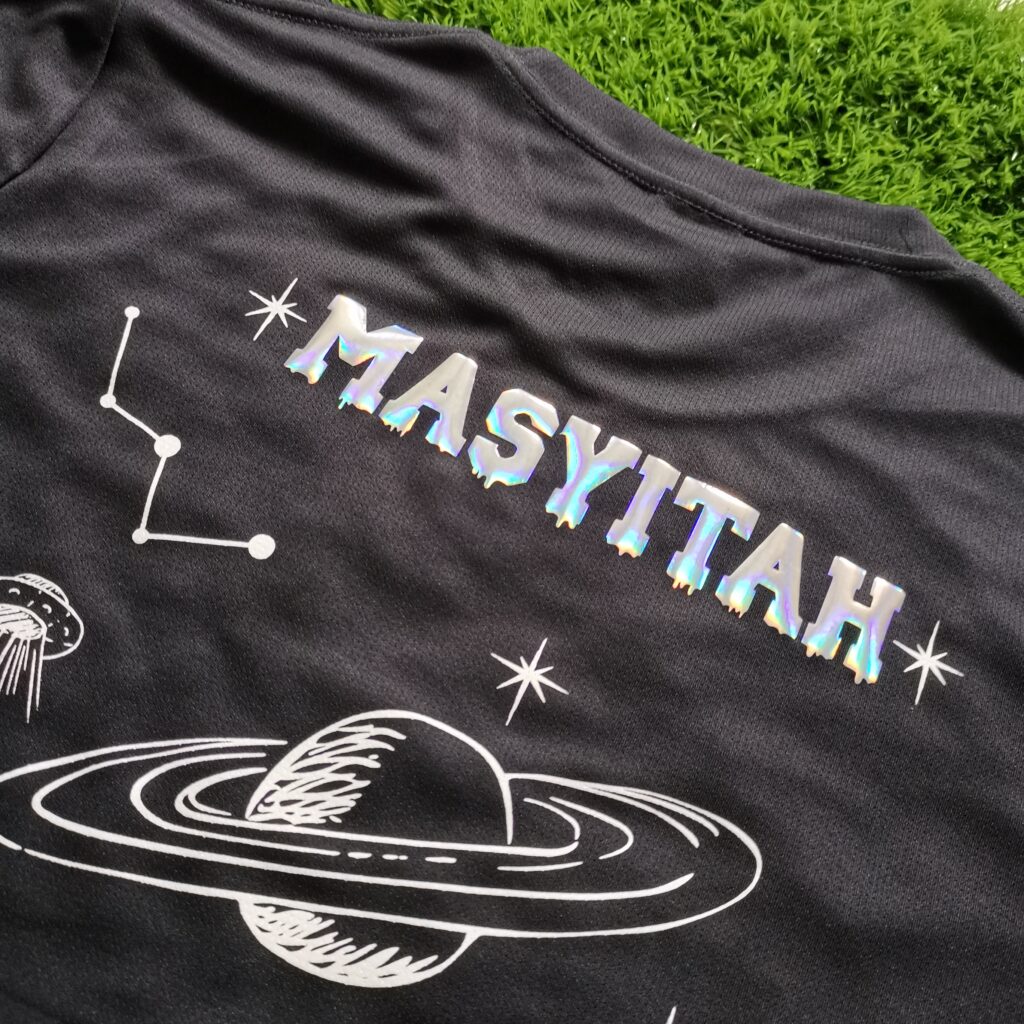 Another key ingredient is the quality of the film. For films there are different tiers of quality too. 
Mainly there are two types of vinyl material – PU and PVC.  
Polyurethane (PU) heat transfer is made of 100% polyurethane (TPU) elastic material. The advantages and disadvantages are:
Advantages 
Budget and cost-friendly for bulk orders especially for customised name and numbers

Cheapest option for basic customise order in small quantity

Thinner 

Softer 

Flexible 

Can print on various materials
Disadvantages
Durability. Can peel over time

Recommend to hand wash (not advisable for machine wash)

Limited colour range 
Poly Vinyl Chloride (PVC) material is made of polychlorinated (PVC) and polyurethane (TPU) materials. PVC vinyl films are thicker and inflexible, making it feel rigid on the shirt. Finishes are mostly matte.
Advantages 
Ideal for large lettering or numbers design, e.g.: Jersey Numbers 

Cheaper
Disadvantages
Feels heavy if a large design is printed

Can feel the printed film on the shirt 

Recommend to hand wash (not advisable for machine wash)

Less durable than PU Films


Limited colour range
TJG Print uses superior PU Vinyl Film. The material is thin which makes it flexible and stretchable. This film is very light-weight, making the print with the shirt feels like one piece. Also, the print does not crack easily when stretched or washed. As a result, the shirt is comfortable to wear. Many Singapore printing companies use PVC Vinyl film which is heavy and less durable. PVC films are thicker which creates a heavy and uncomfortable feeling if one is to print big designs such as jersey numbers. 
Vinyl heat transfer printing is good for non-complicated designs such as basic shapes, text or numbers. They are available in libraries of colours and one can choose to have a matte or shiny finish. 
However, one of the restrictions is that vinyl films can only produce a design in one colour at any time. If there is more than one colour, the other colours will have to be printed correspondingly over the other vinyl colour or using digital heat transfer print. A good recommendation of print will be personalised names and numbers on t-shirts and jerseys. This makes it a great choice for sports jerseys as well as class T-shirts. 
Printing Class T-shirts in Singapore with personalised names and numbers need not be expensive! We have student promotion rates as cheap as $9. Request for quote or chat with us today !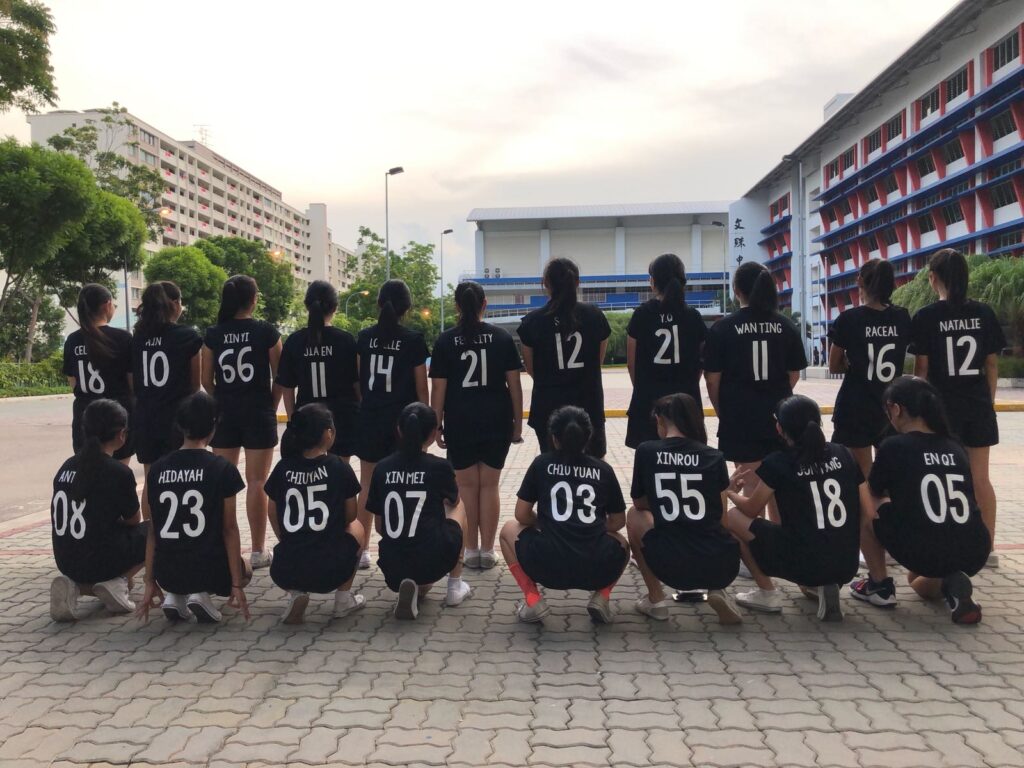 Digital heat transfer is similar to printing a photograph or full coloured design onto a shirt. 
The technique and process is very similar to vinyl heat transfer printing. Firstly, a high resolution and clear design (above 300 dpi) is required for accurate and vibrant coloured finishing. The design is created using software. Secondly, the "print and cut" machine does both jobs of applying coloured ink onto a special heat transfer film and finishes off by cutting out the contour shape of the design. Thirdly, it has to undergo a manual weeding process to remove excess vinyl films. It is done manually using special weeding tools or physically with hands. Fourthly, a sticky transparent film and a squeegee is required to extract and transfer the printed design over. Lastly, with the stick on film, it is transferred onto the shirt with the aid of the heat press machine. 
The finishing results are smooth and the bleeding line is almost invisible depending on the shirt and design colour.  
Dimensions of design and complexity of designs are the cost factor for digital heat transfer. The bigger the design, the more expensive it is. Drop us a message today for a quote!
Advantages
Versatile and can be printed on various materials

Cost effective for small quantities with multiple-colour designs 

Able to print gradient effect and unlimited colours
Cons
Durability 

Colours fading over time

Expensive for bigger designs (A4 and A3)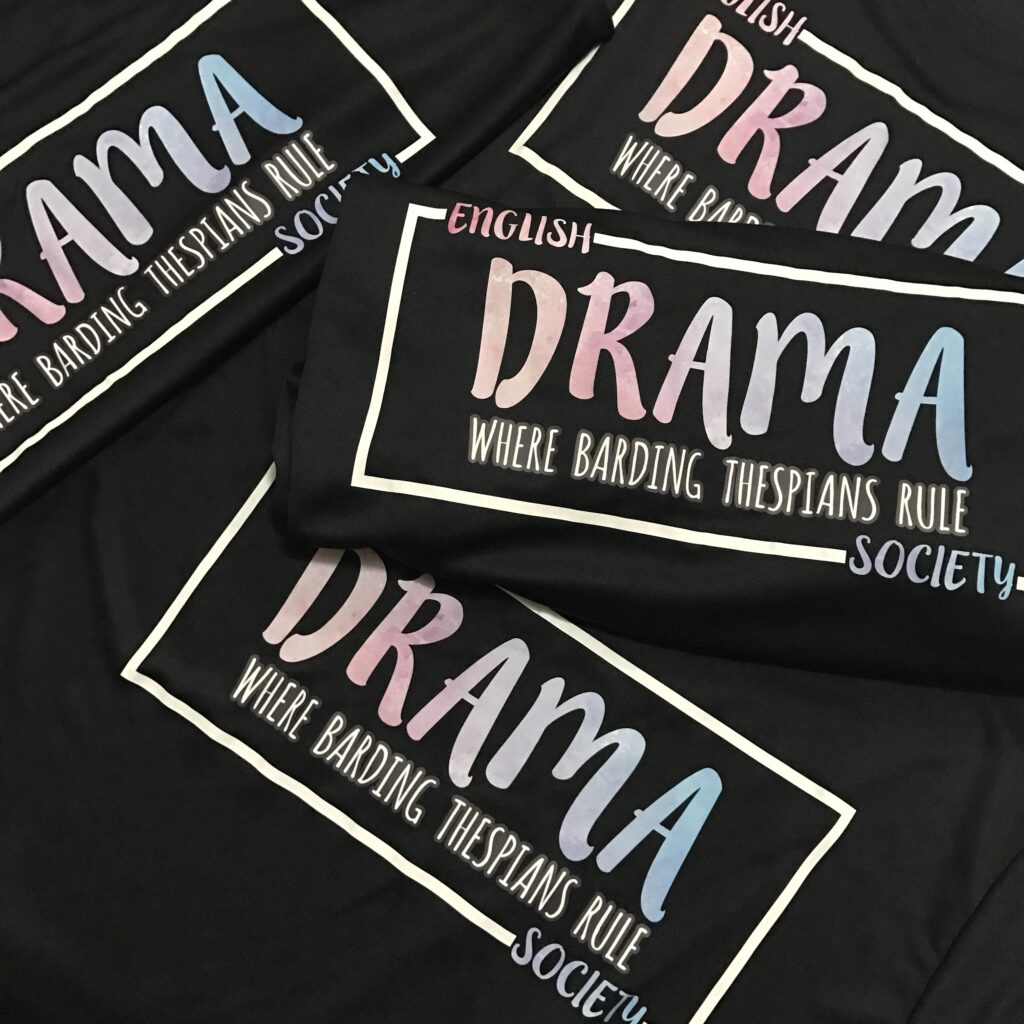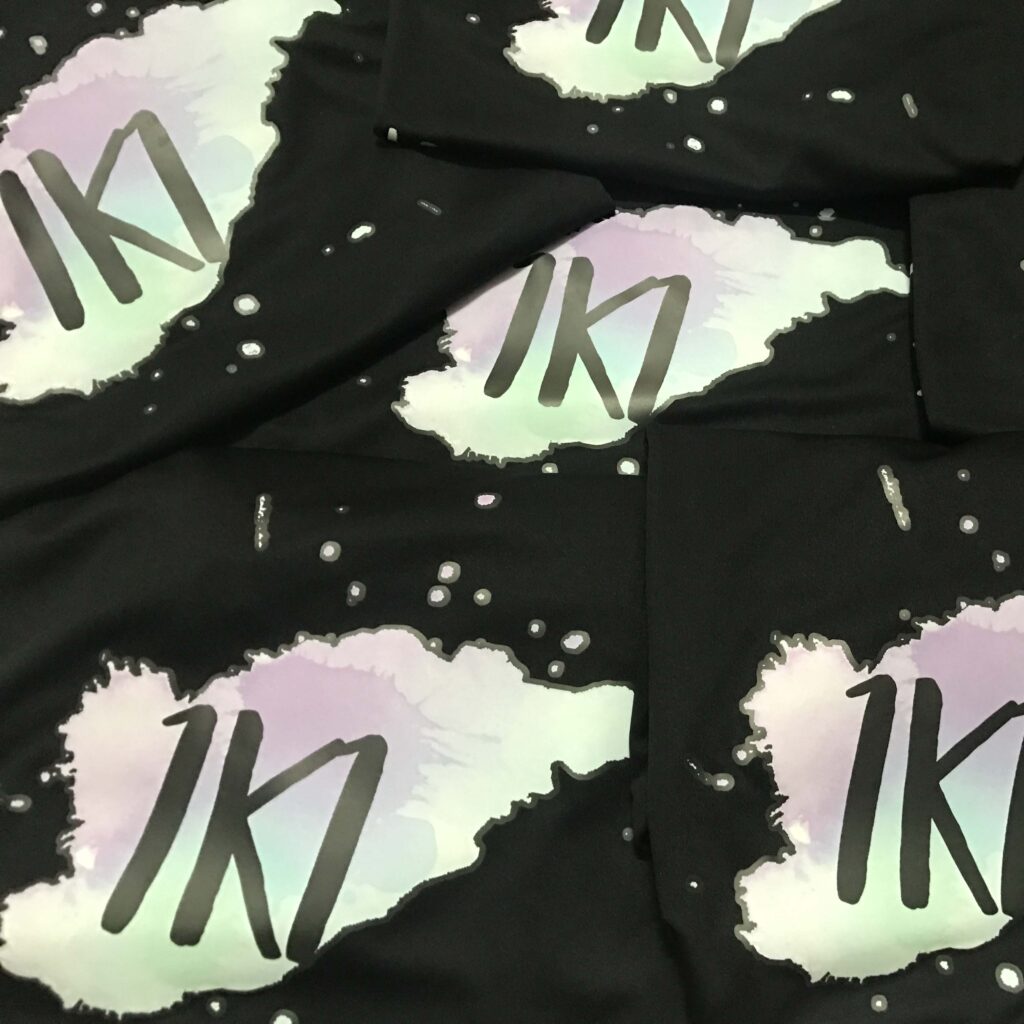 Durability of Vinyl Heat Transfer & Digital Heat Transfer Print

With delicate care and proper maintenance, a printed shirt is able to withstand the test of time with 30-50 washes or more.
General wash care tips: 
– Wash your t-shirt inside out 
– Do not iron over print 
– Using high temperature water can cause your printed shirts to peel or crack
– Do not bleach as they contain harmful chemicals that may react with vinyl 
More Frequently-Asked-Questions (FAQ) can be found here. 
Other than T-Shirts, you can also customize other promotional items available on our catalogue: 
What is the lead time? 
At TJG Print, our lead time for heat transfer printing services is less than 10 working days from the time your order is confirmed. Express printing can be done within 2 days.
What is the minimum order? 
For Vinyl Heat Transfer Print, no minimum is required.
For Digital Heat Transfer Print, minimum of 5 pieces is required.
What other print methods we offer?
– Vinyl & Digital Heat Transfer Print

Recommendations 
Depending on your requirements, for single coloured designs like names and numbers which are often seen at the back of sports jerseys or class t-shirts, we recommend Vinyl heat transfer. 
For full multi-coloured images or design, we recommend digital heat transfer. Otherwise, if using lesser colours and larger quantities, a more recommended print will be Silkscreen Printing. 
Alternatively, for full customisation, you can consider custom made service with sublimation printing 
For further clarifications and enquiries,  drop us a message on Whatsapp or email us at [email protected].