When it comes to t-shirt customisation or printing, the question often posted were "Dri Fit or Cotton T-Shirt?" or "Dri Fit Or Cotton T-Shirt, which is better?"
Both can be customised printing but surely, the key to comfort lies in knowing which to select.
To determine which one to opt for, we table out the differences between Cotton and Dri Fit as well as the individual pros and cons to help you choose.
Cotton
Cotton is the most common type of fabric that we have in contact every day. If you look at your outfit today, chances are, you probably have an item that contains cotton composition. Eg. Hoodies, T-Shirt, Pants, Shorts or jackets 
PROS
– Made of Natural Fibre, suitable for everyone and great for sensitive ski
– Cotton is soft to touch and gentle on skin. It does not cling to body
– Excellent in absorbing moisture
– Excellent in breathability
CONS
– Prone to damage from frequent washing/drying
– Deformation on neckline / shape of T-shirt or fading
– Tend to wrinkle
– Require ironing
– Take longer time to dry
– Prone to Shrinking
How to care for your printed cotton t-shirts? We recommend the following:
Do not bleach
Do not tumble dry
Turn t-shirt inside out before washing
Do not use hot water or high temperature water to wash
Wash & Iron Inside Out
Do Not Iron Over Printing
When to choose Cotton T-shirt?
If your intended use is to be worn indoors mostly, cotton may be a good choice as they are great for most temperature settings. For example: Air-conditioned environment (shopping malls, office, work, schools). This is probably why T-shirts are a staple in most people's wardrobe as it is suitable for the Singapore weather!
Cotton material comes in different tier of weight (GSM). The higher the GSM, the thicker or heavier the material. Higher GSM can mean that the material is smoother, more comfortable and softer. However, it also means that it is hotter. Hence, depending on the purpose of the shirts, it is good to find the right balance.
Do you know that interestingly, there are few different types of cotton too? You can check out some common terminology that we have shared previously.
At TJG Print, we carry various types of cotton and in a variety of colours on our cotton catalogue that are customisable with Digital & Vinyl Heat Transfer, Silkscreen Printing and/or embroidery.

Dri Fit (Polyester)
On the other side, another common fabric used for T-shirts is Polyester. Most of us probably have at least one Dri Fit T-shirt in our wardrobe which we use for sports such as jogging, cycling or yoga. Unlike Cotton, Polyester is made of synthetic material and may contain other types of fabric or chemicals.
Dri Fit is made from Microfiber polyester fibre material. One of its key features is the moisture-wicking ability which transfers sweat quickly from your body to the fabric surface, where it evaporates, making it light to wear.
PROS
– Quick Drying
– Resistant to wrinkle, need not iron
– Resistant to damage, fading
– Good for outdoor / sports
– Moisture wicking ability
CONS
– Does not have the same softness or comfort as cotton
– Prone to retain odour due to product build up
It's also helpful to know that there are various types of Dri Fit that come in different textures and they are versatile to be used for a casual outing, sports or Fashion.
Understand more about the different types of dri fit material for t-shirt printing and all about their pros and cons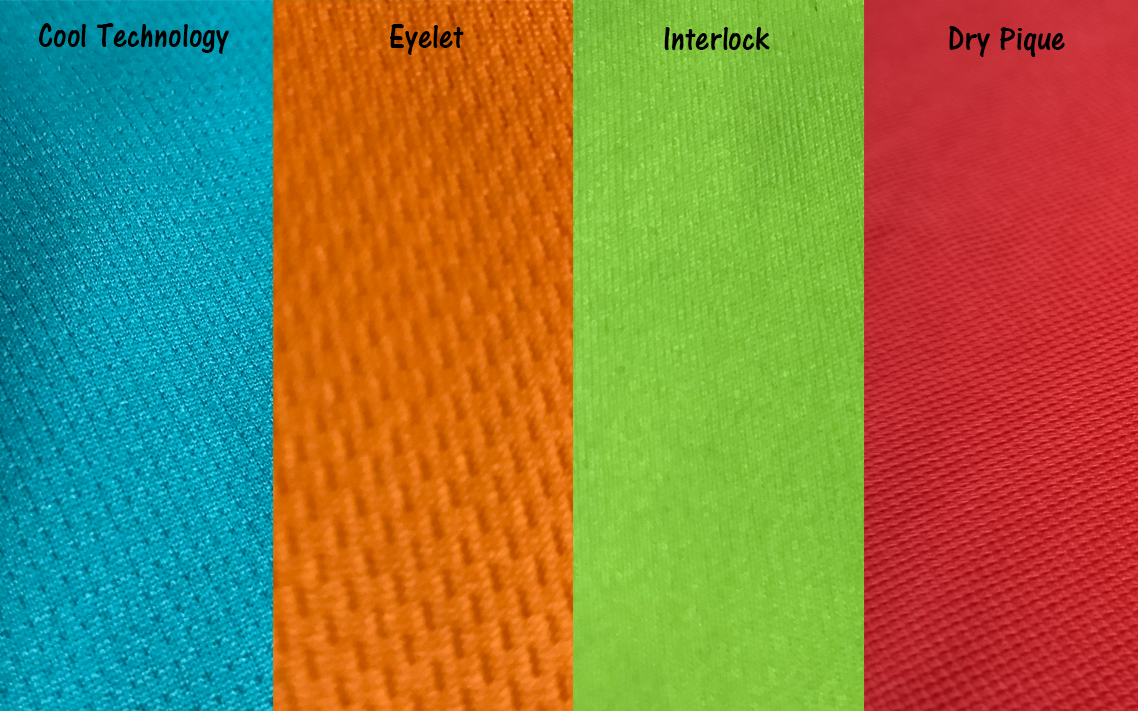 When to choose Dri Fit?
In most situations, if the purpose of the shirts are used for outdoor activites or requires some form of perspiration, we will usually recommend Dri Fit Material. Due to its benefit to keep the wearer dry and cool for a long period of time, Dri Fit T-shirt is a popular choice for sports, intensive sports, class T-Shirts or outdoor events and activities.
Over here, you can find the different types of Dri Fit that we carry.
How to care for your Dri Fit T-shirt? We recommend the following:
1. Turn your T-Shirt inside out. Reason being, the bacteria that causes bad odour build up from the inside. Turning them inside out will allow the water and detergent to have more contact with the source of the bacteria.

2. Using normal temperature water as heat can amplify odour. Besides that, Dri Fit material tends to be quick drying.
The above care tips serve as a general guide and that not all clothing follow the same fabric care rule as some may require special laundry service such as dry clean, hand wash etc.
When in doubt, be sure to check the care label.
So, Is Cotton better or Dri Fit better?

While the same material may not feel the same for everyone. We recommend that you consider the objective, purpose of use and frequency of use first. If you are unsure, feel free to chat with us! At TJG Print, we are here to listen and provide the best advise for your Custom T-Shirt Printing needs