Fabric type, blends and other terminology to know
Printing a t-shirt for the first time? But overwhelmed by the different terms you see on Google and too much details to digest?
Here, we compiled a glossary of basic jargons and terminology for ease of reference. You can look up at more common questions and Frequently-Asked-Questions about our printing services which may help you understand more.
Absorbency
Refers to the ability of a fabric to absorb moisture. It is an important component in fabric as it affects the wearer on various levels such as comfort, shrinkage.
Anti-Bacteria (Anti-Microbial)
A fabric that has been chemically treated with special treatments to offer protection against bacteria or inhabiting microbes.
Breathability
Refer to movement of air in and out of fabric weave. Breathable garments usually come with bigger pores for better airflow. To keep the wearer comfortable by letting moisture escape from the other side of the fabric.
Comfort Stretch
Comfort Stretch can go different ways. 2-way stretch (width or length) or 4-way stretch (in all directions). Simply put, it refers to the way the fabric stretches that affects freedom of movement.
Cotton
Cotton is the most common type of fabric in the world and we use it everyday. They are made of fibers from the cotton plant seed. In technical terms, cotton is not a fabric, but the cotton balls on the cotton plant go through different processes before they become fabric.
They are structured and stiffer than most materials. You will also be happy to know that cotton material is available at different price points to meet different budgets.
Combed Cotton
Cotton fibres go through a comb process that separates individual cotton fibres. This process removes short fibres and impurities, leaving behind long fibres that are arranged parallel to each other. Even though they are made from the same plant as cotton. They go through a laborious process resulting in softer and smoother cotton than regular cotton which makes it more expensive.
Cotton Blend
Refer to cotton blended with other fabrics to give an extra touch of quality.
Example: 80% cotton and 20% other fabrics such as polyester.
Cotton Jersey Knit
Majority of t-shirts are made from jersey knit material. These are often cotton blends or cotton. The material is soft to touch, coupled with breathability ability. It is the best choice for comfort to keep the wearer cool.
Contrast Stitching
Refers to a fabric piece or thread colour that is different from the main fabric to produce and highlight a design detail.
Coil Zipper
The teeth of the zipper are made of coiled nylon or polyester. The teeth/chain are stitched into the tape. The zip is lightweight and flexible, making it the ideal choice for light items or when you don't want the zip to stand out too much.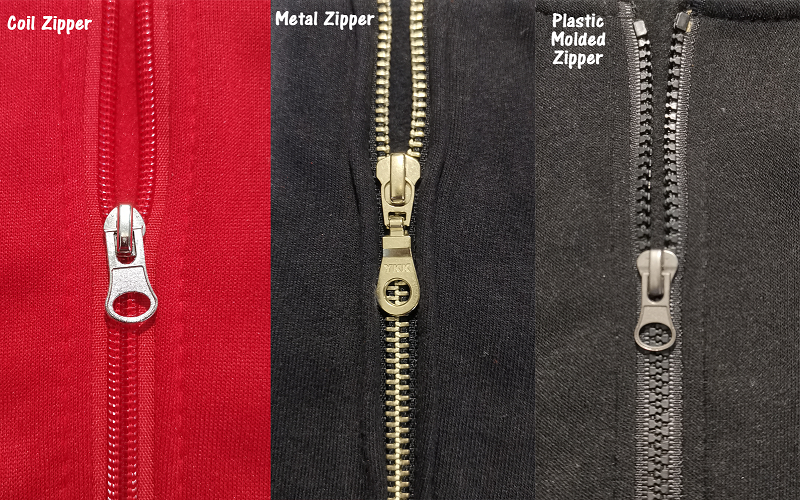 Crew Neck
A shirt with no collar and round neckline.
Dri Fit or Dry Fit
Dri Fit is made of polyester material with moisture-wicking ability that keeps you dry and cool in warm weather.
Dry Pique Dri Fit
100% Polyester Dry Pique, comes with moisture-wicking ability but less casual with waffle lookalike texture.
Drawcord
Another term for drawstring that runs through a hem. Use to tie up in bottoms or hoodies.
Double needle stitching
Also referred to as twin needles. Double needle stitches two perfect parallel rows with one stitching. Often found in sleeves and bottom hem for more enforced seam.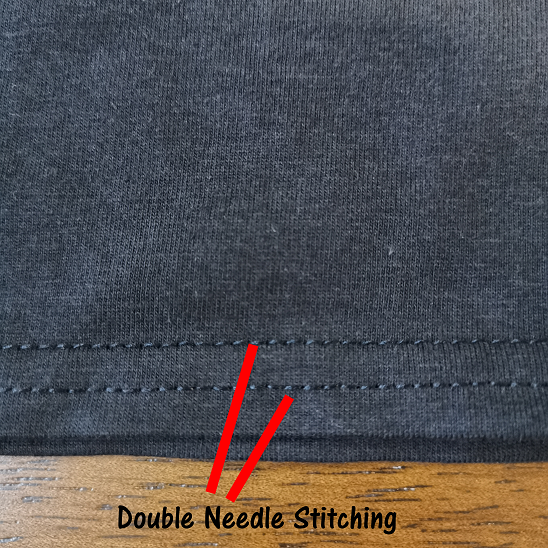 Elasticity
The ability of the material returning to its original length after stretching.
Eyelet Dri Fit
Made of 100% Microfibre. Feature a cut out "eye shape" pattern and often used as active wear or sports due to its good moisture-wicking ability which helps to absorb perspiration and keep the wearer dry.
Fibre
Refers to the class of fibre material. Can be in natural form or manufactured form which are then twisted into yarns before it goes through a production of fabric.
Fabric
Cloth ready to be used
GSM
The standard metric for weight of fabric, Grams per square meter.
Heat Transfer Label
Label tag that is usually displayed on the back inner of the shirt.
The information is heat stamped or printed directly onto the apparel.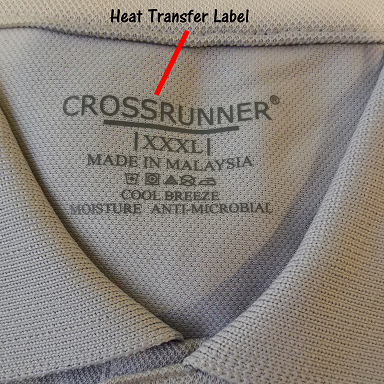 Heather
Use of two different yards to produce another look. For example: Blending Black and White to create a grey yarn.
Interlock Dri Fit
Made of 100% Soft Polyester Fibre. Feature smooth and non-porous surface and has attributes of sweat absorbent ability.
Invisible Zip
As with all zips, invisible zip comes with teeth/chains too. However, it hides behind the zipper tape. More commonly used in dresses and other formal dress.
Melange
Fabric with varied mixture of colour tones.
Metal Zip
Metal zippers come in different finishes such as brass, nickel. They have teeth that are clamped onto zipper tape. Good for heavy duty items such as denim. On the downside, the zipper at times does not slide smoothly.
Molded Plastic Zip
Molded Plastic Zippers have the teeth molded and melted directly on the zipper tape. The shape of the teeth/chains is thicker and harder than the coil zippers. Usually is a more cost effective option
Moisture Wicking ability
Refers to how water is transported away from the body and spread onto the surface of fabric so that it evaporates quickly.
Organic Cotton
Made from 100% natural plant seeds.
Does not use pesticides or chemicals.
Pre-Shrunk
Refers to fabric that has undergone a wash and dried prior to being sewn to prevent further shrinking.
Another to note is that 100% cotton fabric that undergoes the same pre-wash condition will still shrink 4-5%.
Polyester
Made of artificial nature (man-made synthetic fabric). They are chemically treated.
Durable, winkle resistance and dries quickly.
Popular with activity and the outdoors.
Quarter Turned
During the manufacturing process, the fabric tube that shapes the body of the shirt turns one-quarter of the way around before cutting the fabric to prevent the center part of the shirt from creasing on the front.
Raw Edge Neckline
T-shirts without folded stitches, resulting in a larger neckline.
Rib Knit
A type of knit fabric using two needles to stitch vertical textured lines. Found in certain types of shirts and on certain placement such as collars, necklines, cuffs.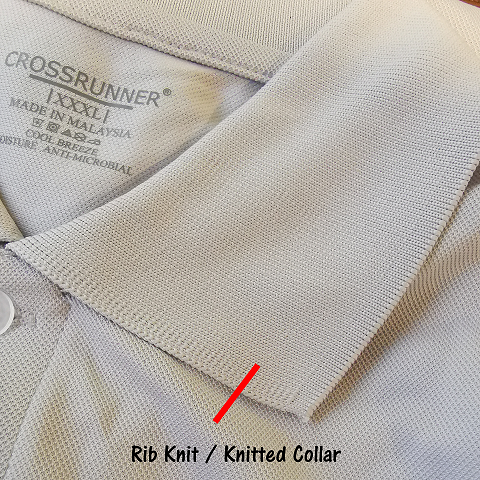 Ring Spun Cotton
Starting from the same fiber strand, the yard is made by twisting and thinning the cotton fibre strand. The spinning effect of the fine, soft rope of cotton fibres ultimately makes a stronger yard.
Seam Tape
Not referring to your regular tape. If you look closely at the stitches of the shoulder or neck part of your clothing, you might notice an extra cloth that is being used to hold the seams together. It is the seam tape to cover up seams for a cleaner look. It also acts as stabilizing tape to the shoulder just so that they do not stretch up over time.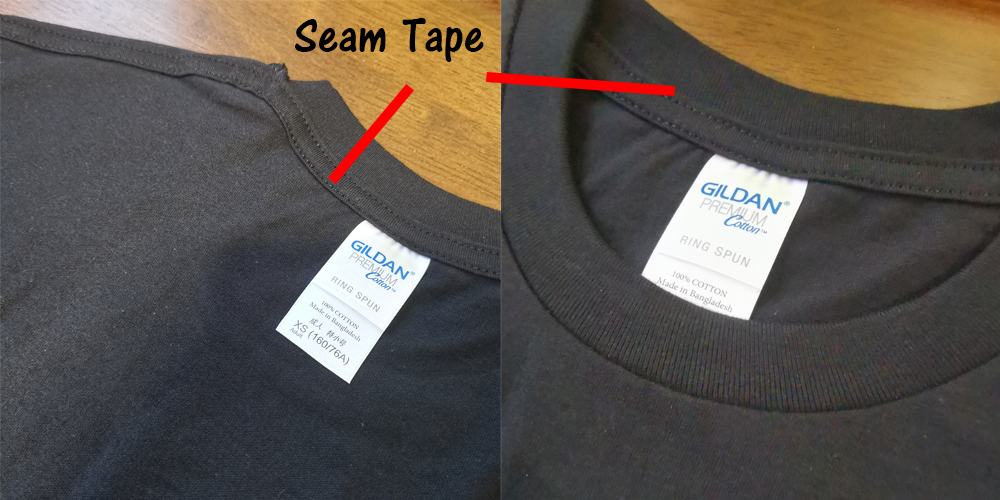 Shirt Side Vent
Slit on both bottom side seams of the shirt, more room for movement.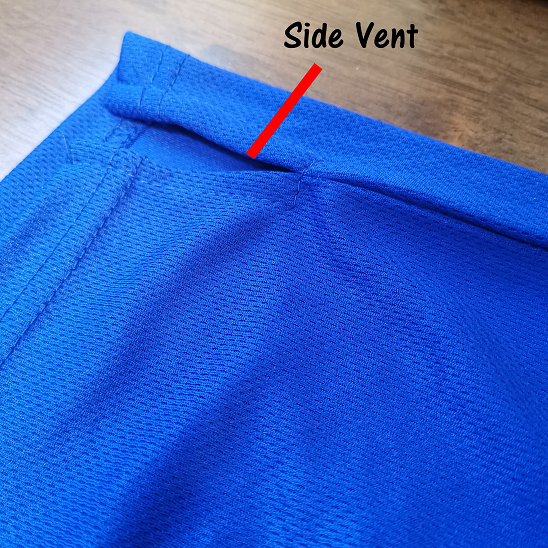 Side Seam
Refers to the seams that run down on both sides of the apparel (from armpit to bottom hem) to join the fabric. From arm to waist.
Side Back Seam
Combination of seams stitching. Can be on the side, including center back of apparel.
Spandex
Similar to Polyester, it is also made of artificial nature. Due to its extraordinary stretch ability, when stretched the fabric reverts back to its original length.
Fabric is soft and smooth to touch and often used in Swimwear, dive suits.
Supima Cotton & Pima Cotton
Both are high end cottons with different varieties and similar in qualities.
Supima Cotton can only be found in the United States.
Tear Away Label
Attached brand label tag inside of apparel. Can be torn easily with minimal force and does not cause damage to apparel.
Tubular
Seamless t-shirts are made from fabric that are cut off from a fabric roll like a cylinder without any shape.
Water Repellant
Fabric that has gone through a layer of coating (finishes) to which causes water to shed from the surface.
Water resistant
Refers to how much water is able to penetrate into fabric.
Waterproof
Fabric with closed pores, does not allow water or air to pass through.