Looking for printing services but don't want to make a trip to town? Explore our list of printing services at Katong Shopping Centre.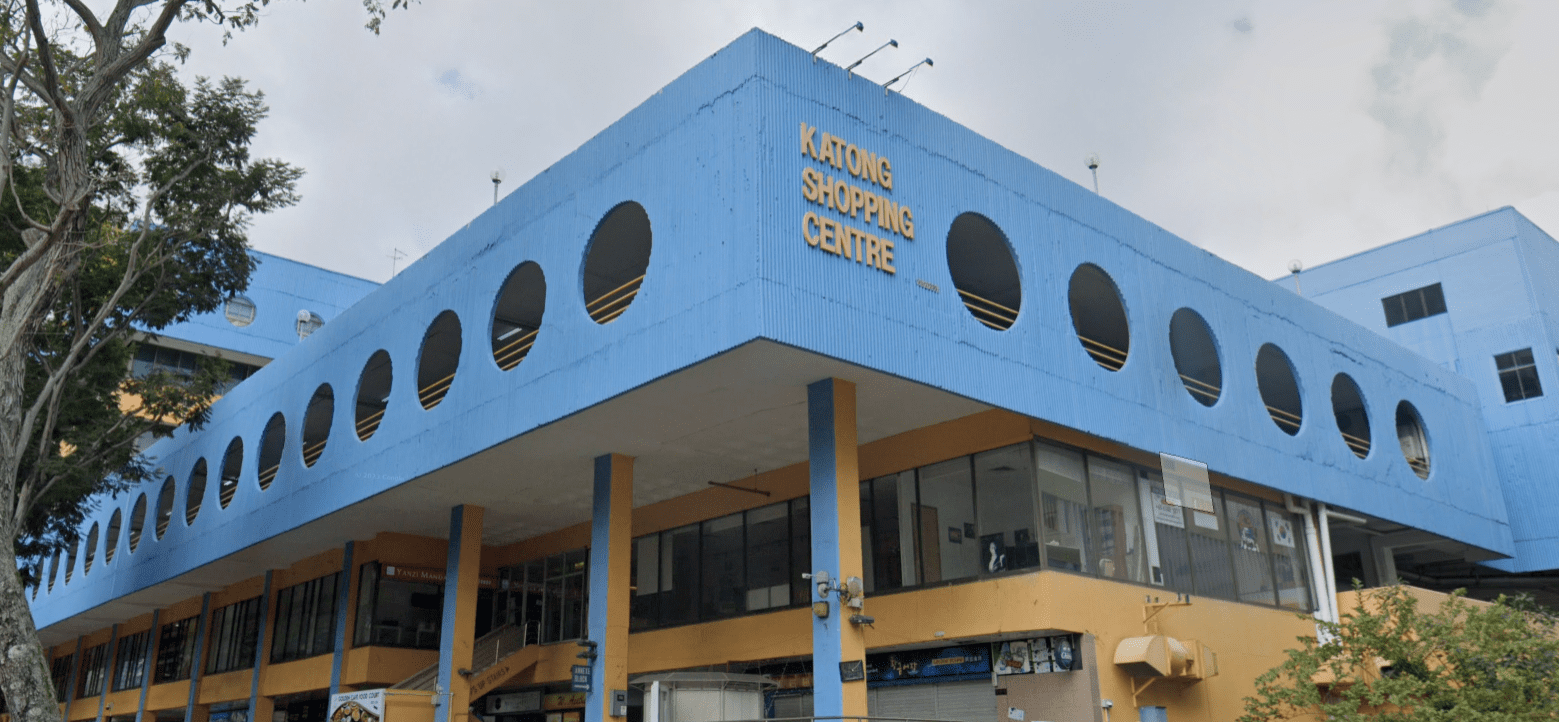 Credits to Google Map image
Before we begin to explore the printing shops at Katong Shopping Centre, it is interesting to note that this shopping centre has stood the test of time. It was the first mall in Singapore to have air-conditioned rooms when it opened its doors in 1973. Fast forward to today, the shopping centre is surrounded by hotels, churches, shopping malls and numerous eateries and amenities, all of which combine to offer you the ultimate shopping experience in Singapore.


What was once a historical mall known for textiles, clothing and shoes has transformed over time. Nowadays, the mall is dominated by various retail businesses, including printing shops, eateries, hiring agencies, and stationery supplies, among others. Despite its age, people still flock to this mall for office supplies, printing services, and food. It remains a convenient place offering a comprehensive range of printing services for businesses and working professionals who may require a quick printing job during lunch hours.


Located at the crossroads of Mountbatten Road, Haig Road, and Amber Road, this shopping complex is easily accessible via Dakota MRT Station (CC8), Eunos MRT Station (EW7), and Paya Lebar MRT Station (EW8/CC9).


When you step into Katong Shopping Mall, you'll find a bustling hub of activity from office supplies, printing services, food and more. The mall's transformation over the years has brought a diverse array of businesses until its roof to cater to the needs of the modern shopper. One remarkable aspect of Katong Shopping Centre is that it has retained its appeal despite being one of Singapore's older shopping malls. It continues to draw people for several reasons.
 There are various businesses nearby, shopping malls, restaurants in the area that can rely on Katong Shopping Centre for their office needs.
2. Printing Services for your printing needs

The printing shops in the mall offer a wide range from photocopying to large format printing. Business owners and individuals can turn to these shops for their quick and reliable printing needs.
The mall hosts a variety of eateries servicing local flavours, making it a place to grab a meal with colleagues or friends.
Who Needs Printing Services?

Printing services continue to cater to a wide range of needs. While many businesses are going electronic, certain printing services remain indispensable for various individuals and enterprises. Here are some scenarios where you might find these services valuable:


1. Students, Trainers, and Teachers: Educational professionals often require photocopying and binding services to compile study materials, training manuals, or teaching resources. Katong Shopping Centre provides easy access to these services at an affordable price.


2. Business Owners: Entrepreneurs and business owners need a source for printing needs. Whether it's name card printing, banners or eye-catching flyers for marketing campaigns, you'll find multiple stores ready to assist you.


3. Event organisers: Planning an event? The printing shops in the mall can be a valuable resource for creating event materials such as brochures, posters, and tickets.


4. Job seekers and Professionals: Whether you're in the midst of a job hunt or aiming to make a strong impression with your portfolio or resume, printed services can help you create polished and attention grabbing documents.


5. Anyone with a printing need: Sometimes urgent printing needs arise. You're bound to find one store that can easily cater to your needs.
What printing services can you find at Katong Shopping Centre?

(This list is not exhaustive and meant to be used as a guide only)
Banner printing services
Book binding services
Book printing services
Brochure printing service
Customise Calendar printing services
Corporate stationery printing services (Name card, letterhead etc)
Digital printing service
Document printing services
Flyers / Pamphlet / Leaflet printing services
Label printing services
Lamination services
Large Format printing services
Name card printing services
Office supplies
Offset printing services
Photocopying services
Rubber stamps & seal services
Sticker printing services
Printing Shops In Katong Shopping Centre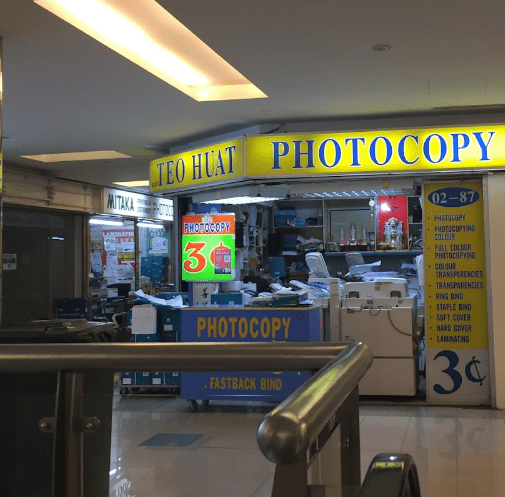 As you ascend the escalator to the second floor, your attention will be immediately drawn to a prominent, brightly lit signage. A quick Google search reveals a wealth of positive reviews, particularly lauding the competitive pricing and exceptional and humble customer service.


Fun Fact : The boss is the brother of popular Teo Heng KTV. Their signboard have the cute penguin logo too.


Address
865 Mountbatten Rd, #02-87, Singapore 437844


Operating Hours
Monday To Sunday: 11am-6:30pm
2. AppleDot Design & Digital Printing

At the far end of the second floor of the shopping mall, you will discover AppleDot Design & Digital Printing. A visit to their website reveals a clean and modernised interface.


At a glance, their product offerings become apparent and specialised in a wide range of digital printing services from name card printing, greeting cards and many more. Whether you're looking for personalised cards or a business in need of professional printing services, check them out.


Address
865 Mountbatten Rd, #02-93, Singapore 437844


Website
https://appledotprints.com/


Operating Hours
Monday To Friday: 11am-8pm
Saturday: 11am-6pm
Sunday & Public Holiday: Closed
3. DOWELL Photocopy Service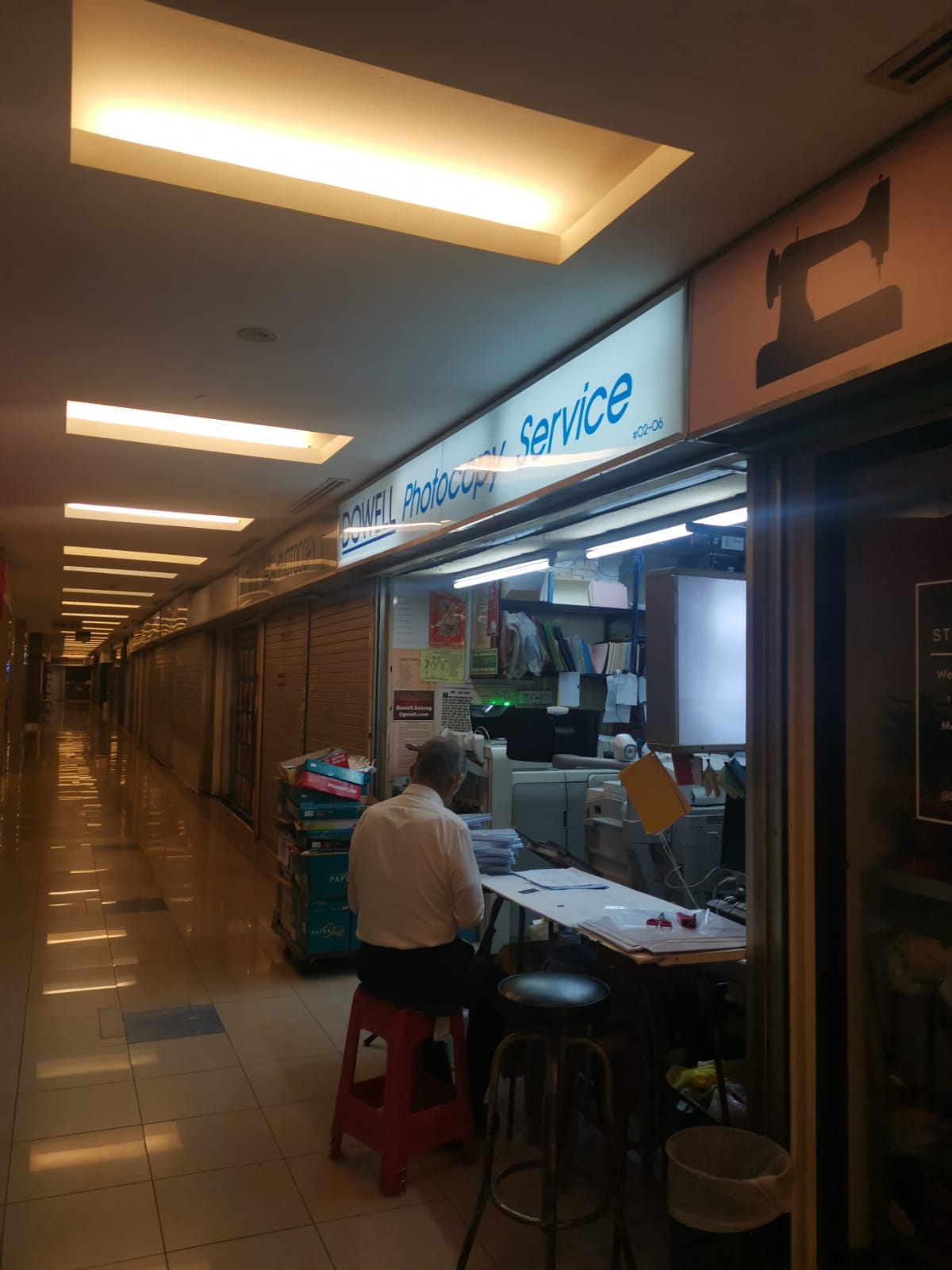 Dowell Photocopy Service specialized in a variety of printing and document services, making it a one-stop solution for your printing needs. A search on review reveals that they offer a nice selection of binding options, they are also able to read from USB and quick turnaround time.


Address
865 Mountbatten Rd, #02-06, Singapore 437844


Operating Hours
Monday To Saturday: 1pm-7pm
Sunday: Closed
4. Mitaka Printing & Stationery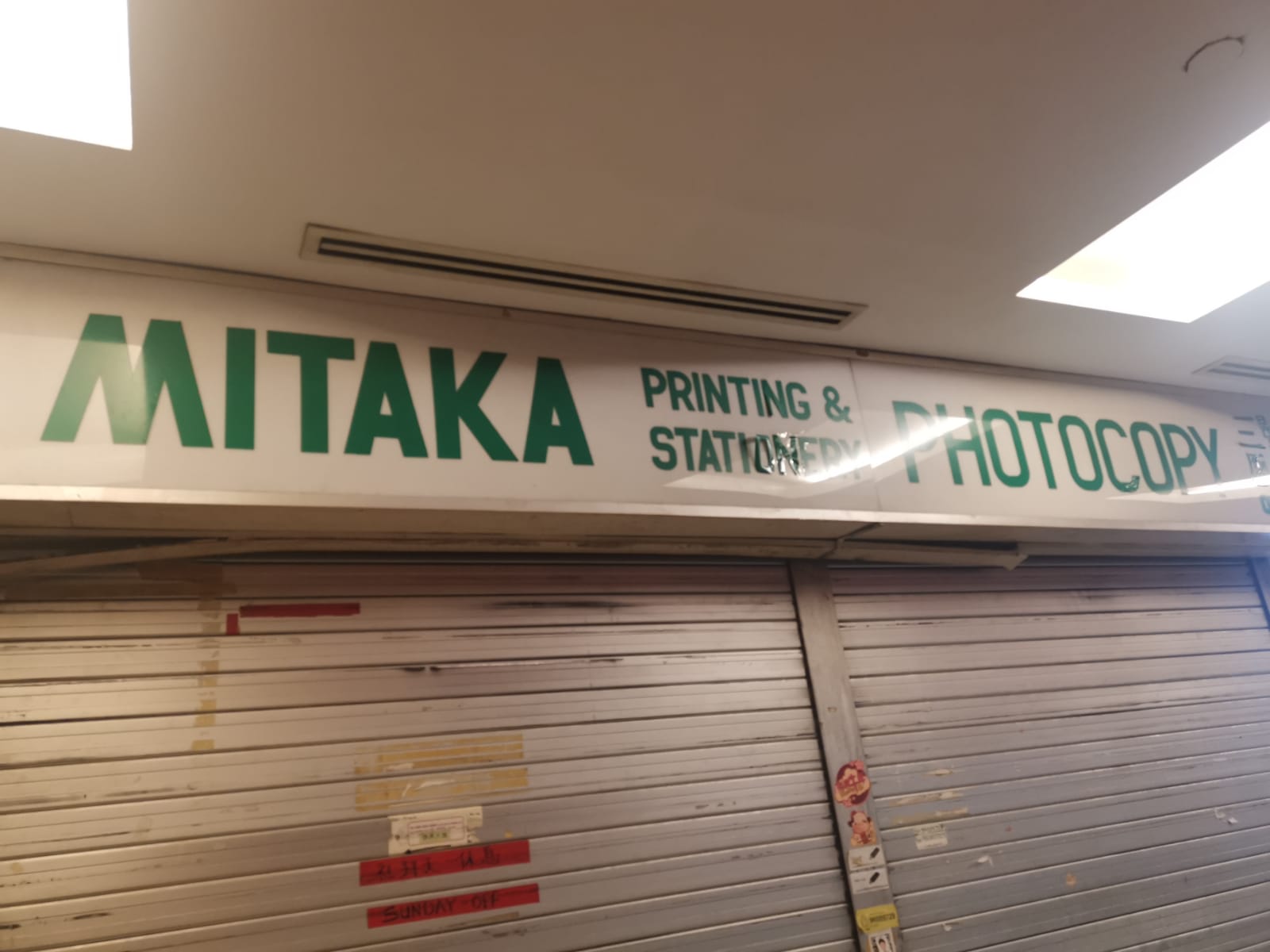 While limited information is available online, it's safe to assume that they offer similar printing services to other shops, including ring binding and lamination service. Whether you need flyers, worksheets, or even lengthy thesis to be printed, considering them for an affordable printing solution is a good idea.


Address
865 Mountbatten Rd, #02-07, Singapore 437844


Operating Hours
Monday To Saturday: 10am-7pm
Sunday: Closed
5. Unique Quality Photocopy Studio

While there is limited information available online, we gathered from their Google reviews that they have a long-standing presence. Apart from providing cost-effective printing for small quantities, they also offer the convenience of sending your printing materials via email to save time. We highly recommend giving them a call to confirm this information or for any additional inquiries.


Address
865 Mountbatten Rd, #02-11, Singapore 437844


Operating Hours
Monday To Saturday: 9:30am-6pm
Saturday & Sunday: Closed
6. Louvy Printing & Stationery Supplies

We couldn't find additional information about this establishment, a quick search for Katong Shopping Centre reveals the shop's location. With limited information available, we assume from their name that they offer similar printing services and stationery supplies as the other shops.


Address
865 Mountbatten Rd, #02-85, Singapore 437844

Operating Hours
Unknown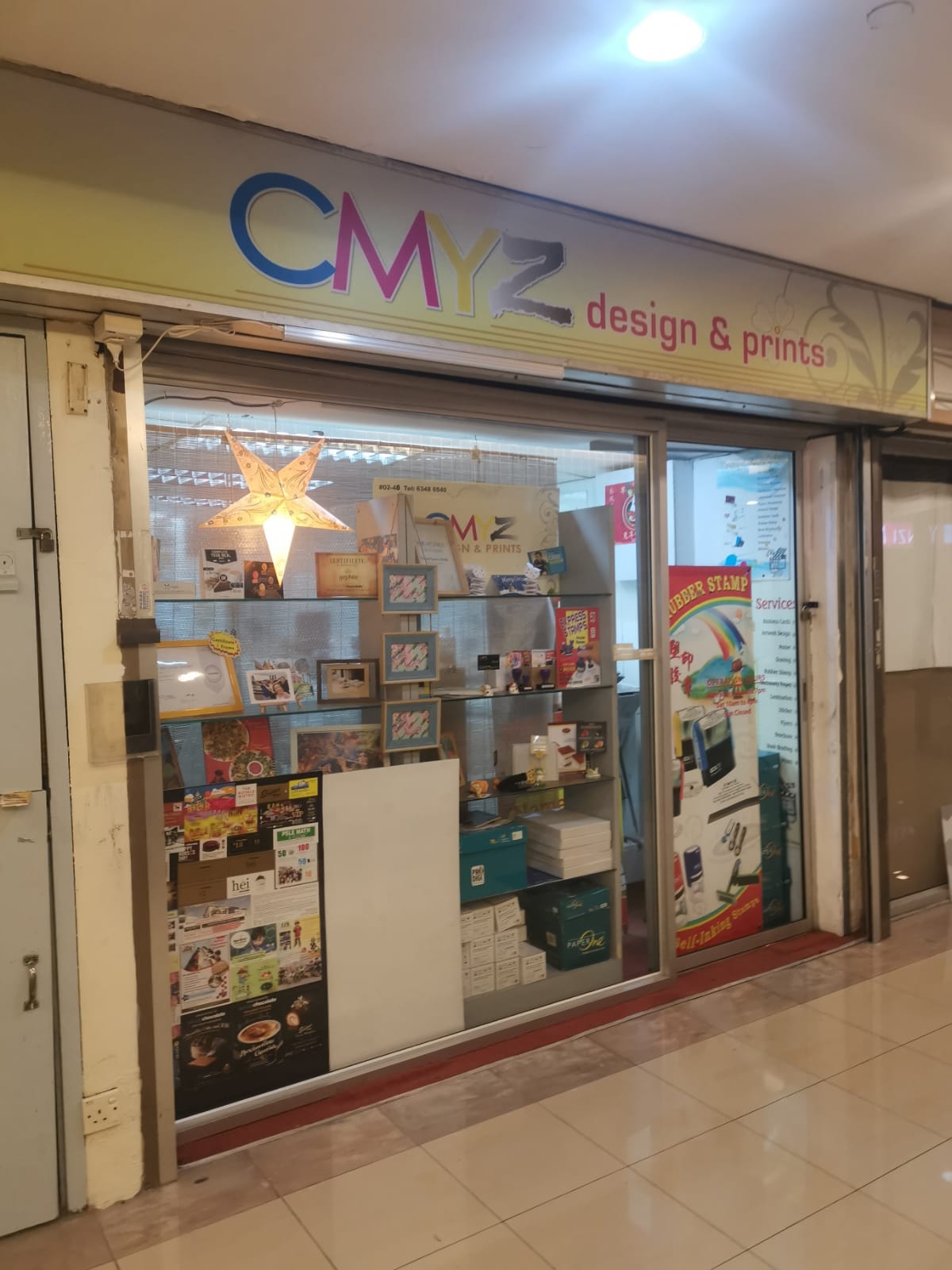 Similar to other stores, we found that they can accept printing materials via email. This not only saves you time but also allows you to explore other services that they offer. Other services may include photo frames and rubber stamps. So if you are in need of one, check them out, as they offer express service.
Address
865 Mountbatten Rd, #02-40, Singapore 437844
Operating Hours
Monday To Friday: 10am-6:30pm
Saturday: 10am-3pm
Sunday: Closed

While we are not situated in Katong Shopping Centre, we have observed that the mall may not offer t-shirt printing services. We hope to bridge this gap and meet your customised t-shirt printing and customisation. We are located in the heartland of  Bukit Panjang and 1 minute walk away from Bukit Panjang MRT (Downtown Line)


Our specialisation focuses on t-shirt printing and customisation ensuring both quality and affordability with fast turnaround time. We provide printing services such as Silkscreen Printing, Heat Transfer Printing, Embroidery and Sublimation Printing
We carry apparels such as Dri Fit T-Shirts, Cotton T-Shirts, Hoodies , Windbreakers and more.
Address
184 Jelebu Road, Singapore 670184
Website
https://tjg.sg/
Operating Hours
Monday To Friday: 10am-6pm
Saturday, Sunday and Public Holidays: Closed
In conclusion, the next time you find yourself on the East side and in need of printing services or stationery, consider visiting Katong Shopping Centre. Despite being an older mall, it still caters to your printing needs, and you can even treat yourself to some ice cream afterwards.


It is essential to note that we do not make claims for services provided by others, nor can we guarantee the accuracy of information at all times. We recommend checking with individual shops for more details about their products and services.


So, whether you are looking to print documents, create custom designs or pick up stationery supplies, Katong Shopping Centre offers a variety of options to explore.
If you are still looking for alternatives for other brick & mortar printing & customisation service stores, you may consider reading our articles on :
Top 6 Printing Shops in Queensway Shopping Centre
Top 16 Printing Shops in Sunshine Plaza
Top 4 Printing Shops in Peace Centre
Top 12 Printing Shops in Bras Basah Complex


Enjoy your shopping experience!