In today's technology, many things that were once printed can now be shared electronically and most of us do not have a printer machine at home. However, there will still be demand for printing services in the near future.
As a student, you probably require printing related services for your school assignments, course notes or thesis. To make it neat for submission, you might even require binding services to make it presentable.
For business owners, freelancers or small business enterprises (home based business owners). You might be able to find a vendor who's able to curate and commission prints for your business cards, flyers, banners, easel stands, stickers etc. In addition, you might also want to look out for invoice printing services or rubber stamp services for your official needs.
There are a few shopping malls in Singapore that have a cluster of service providers providing printing related services – namely Queensway Shopping Center, SunShine Plaza and Bras Basah Complex. Today, we will cover Peace Centre, one of the older malls in Singapore.
Seated on 1 Sophia Road, you can easily get there via Dhobhy Ghaut MRT station.
Peace Centre is replete with printing and photocopying shops, although the number of vendors is less than Sunshine Plaza, it is still a popular destination for some who might need more printing options. While we know you might not be able to explore all the locations, today we compiled a list for ease of reference when you search in Google. Hopefully, this article may be of help to you.
List of services available
– Banner printing services
– Booklet printing services
– Book Binding services
– Business Card printing services
– Digital Printing services
– Document printing service
– Envelope printing service
– Flyers / Pamphlet / leaflet printing services
– IC/Passport photocopying services
– Lamination services
– Poster printing services
– Poster Framing and Mounting services
– Roll Screen Stand (Stand up banner)
– Self-Inking Stamps
– Signage printing services
All information provided is to be used as general reference only. Do your due diligence on choosing who to engage and contact them directly for rates and services.
1. LSeprint (Leadership Trading & Supply)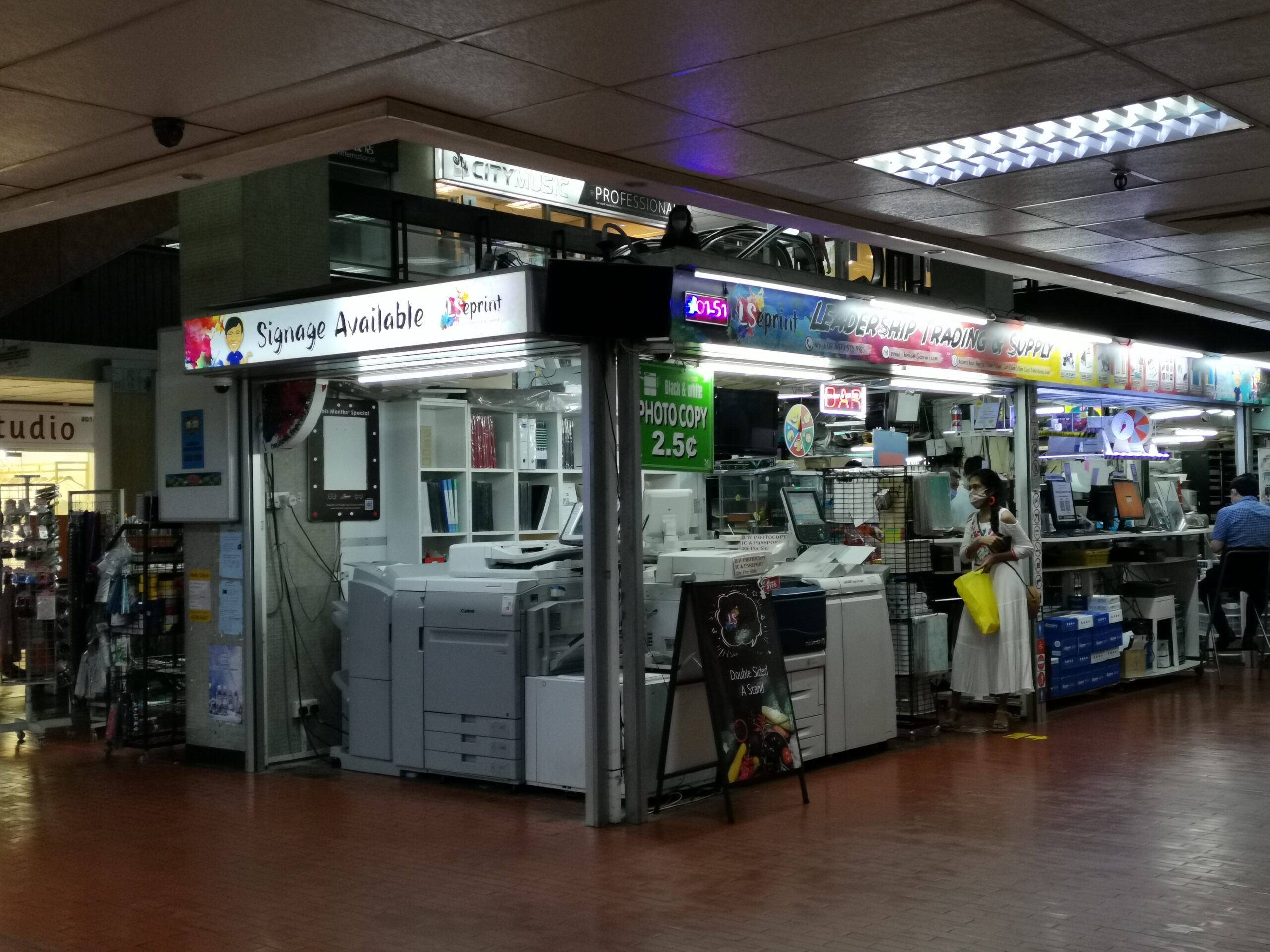 It's hard to miss them as they are located prominently in the middle of the mall, on level 1.


They offer a wide range of printing services with fast turnaround time. And photocopying service. It's also interesting to see they also provide T-Shirt printing (us too) services for single pieces.


They specialize in signage, posters and banner printing.
For more details, check them out here.

Address
1 Sophia Road, Peace Centre, #01-51
Singapore 228149


Website
https://lseprint.com/
Operating Hours
Monday To Friday: 9:30am to 7pm
Saturday: 9:30am to 5pm
Sunday & Public Holidays: Closed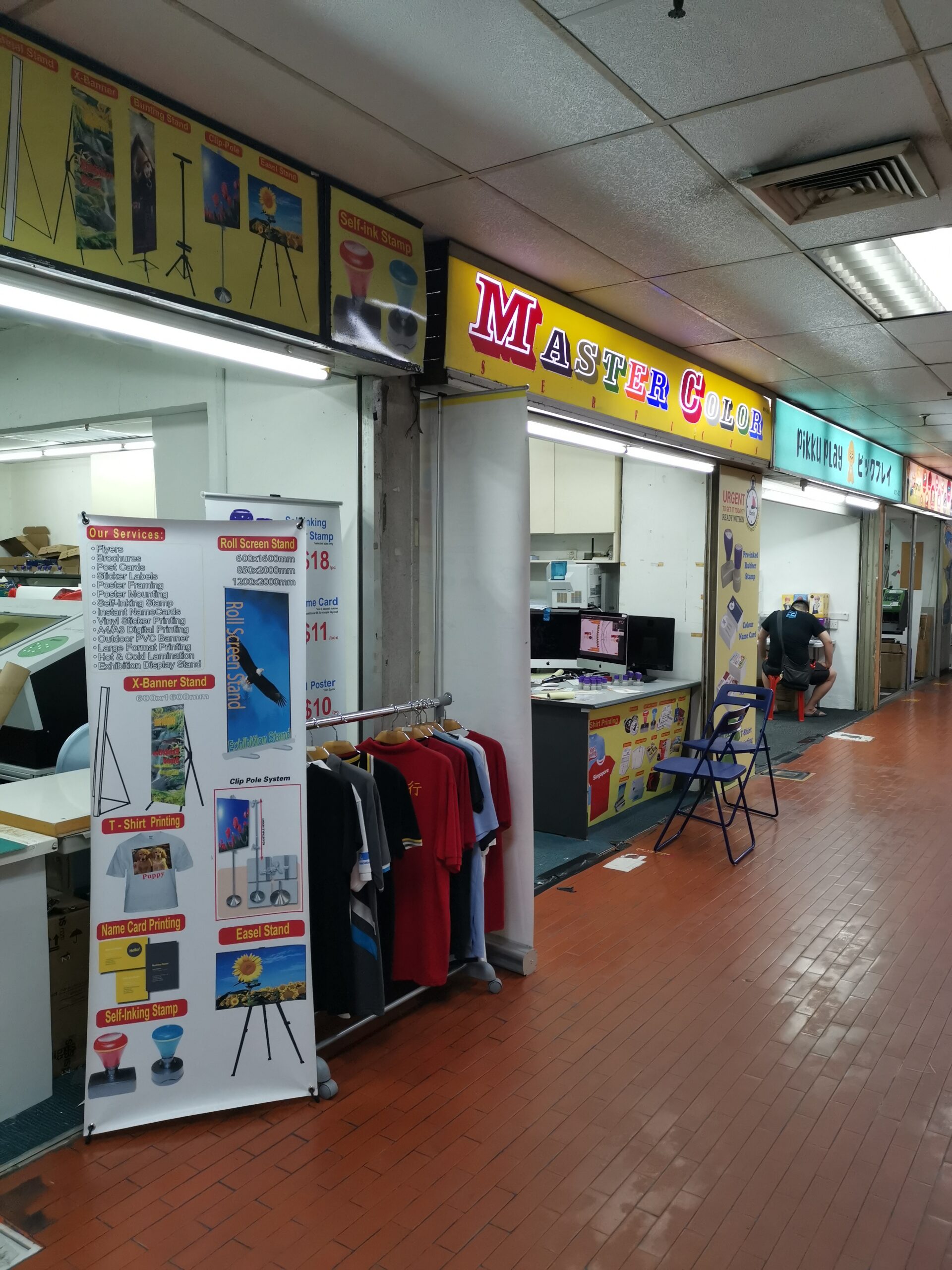 A quick visit to Master Color Services shows that most of (if not all) orders are processed online. The detailed step by step guide also makes it easy and very convenient to order. Good for busy student or business owners!

Address
1 Sophia Road, Peace Centre #01-31, Singapore 228149

Website

Operating Hours
Monday To Friday: 9:30am to 7pm
Saturday: 9:30am to 5pm
Sunday & Public Holidays: Closed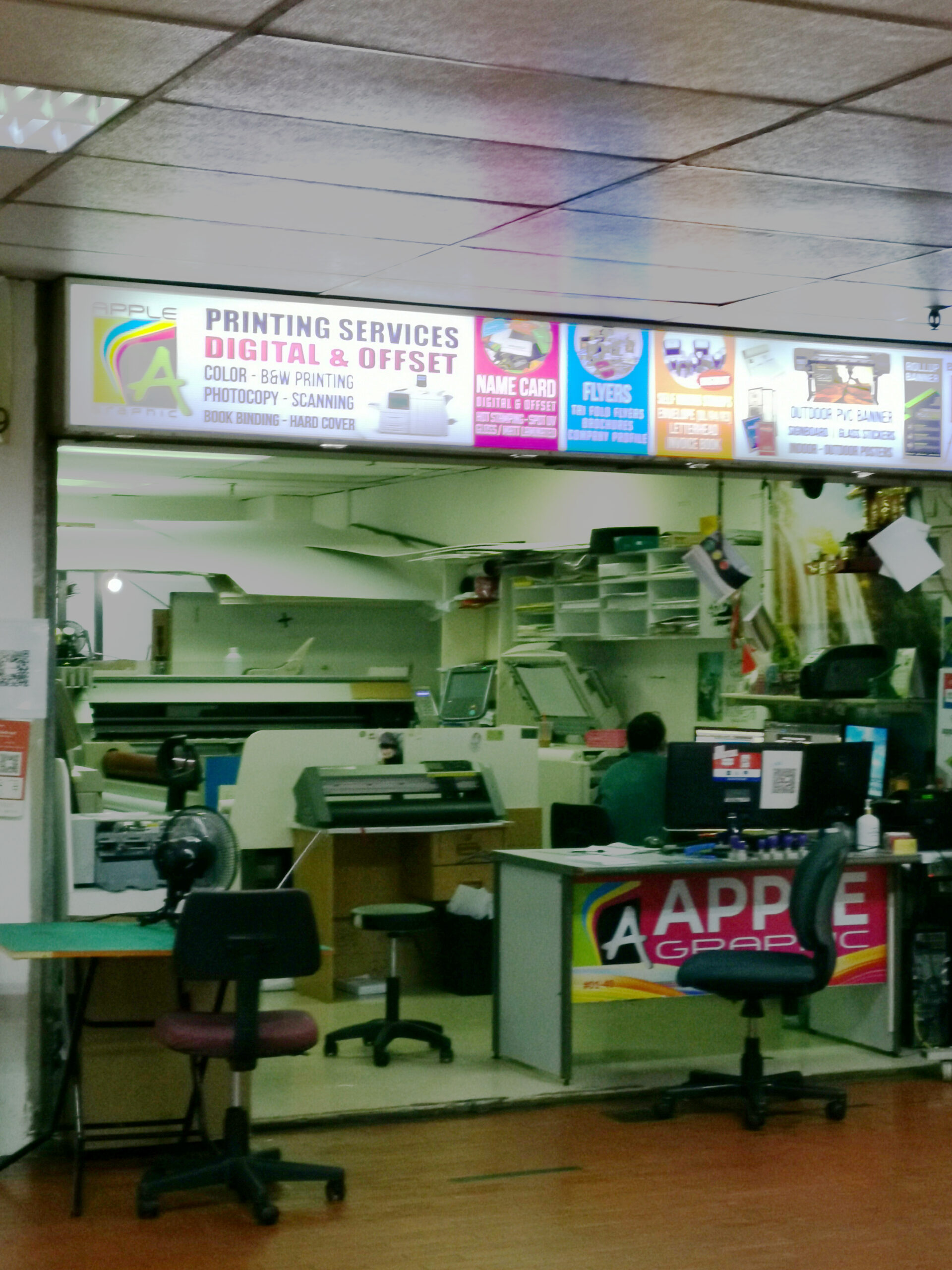 According to their website, Apple Graphic offers a wide variety of services from designing to offset printing. They also specialise in corporate materials such as envelope printing, business cards, menu printing, invoice printing and rubber stamps.

Address
1 Sophia Road, Peace Centre, #01-40
Singapore 228149

Website
https://applegraphicsg.com/about.html

Operating Hours
Monday to Sunday: 10am to 9pm

With just a handful of service providers, we trust that you can more or less find what you need in the Peace Centre. However, as the list suggests, there's probably limited choices for Apparel and T-Shirt printing services in Peace Centre Mall.
While we don't have everything physically laid out in a brick and mortar store, you can still browse our apparel catalogue or gift catalogue.
For more information on our Corporate T-Shirt Printing, Class T-Shirt Printing, CCAs T-shirt Printing, Windbreaker printing do check out our portfolio or reviews on Google.

Address
184 Jelebu Road, Singapore 670184

Website

Operating Hours
Monday To Friday: 10am to 6pm
Saturday, Sunday & Public Holiday: Close
While we do not make claims for services provided by others, we are sure that with our accumulated wealth of experience in T-Shirt Printing services also speaks through the reviews online. Our aim is always to provide quality printing with affordable rates, you can also check out our portfolio or take a quick tour on TJG Print website or catalogue.