Chances are some of us probably have more than one jacket hanging in our wardrobe, whether for personal or work jacket, does it include a windbreaker? We love a good windbreaker for many reasons and today we will share more about it.
For a start, it's compressible, versatile and keeps you warm in different ways.
Singapore generally experiences dry weather along with the occasional rain and windbreakers are perfect for rain or shine. They are suitable to be used indoors (air conditioned environment) as well as outdoors for different activities.
Their light weighted material means it is light and convenient to bring around. Does it sound like a good alternative to a regular Jacket, Sweater, Zip Hoodies, Pullover hoodie, or Varsity Jacket?
Why are customised windbreakers so popular?

Windbreakers Printing in Singapore are often customised to be used as part of corporate identity  for company jackets, school jackets and school CCAs etc. You can choose to customise it by printing or embroidery your company logo, designs and/or slogan. This brings a very unique and personalize type of windbreakers. It is increasing popular among students whom also pair them up printing their Class T-Shirts to make it a complete unique set of class identity.
Windbreakers serves as a standard uniform, official work-wear or outfit which creates uniformity and recognition. It's appears professional, well-dressed and smart looking. On top of which, it complements well among companies and schools because they are "wearable" outfits. You can wear it or take it off as and when you prefer. For instances, after work or school hours, you can simply keep your windbreakers or flip your reversible windbreakers (to the plain side) to keep your life private or personal. Hence, the reason why windbreakers are well-liked and popular amongst companies and schools.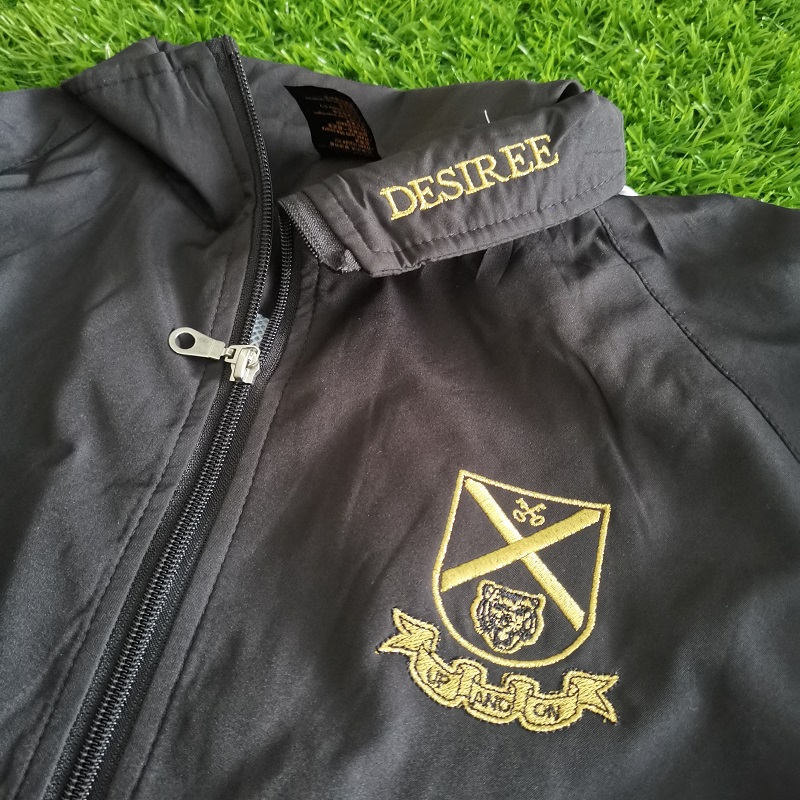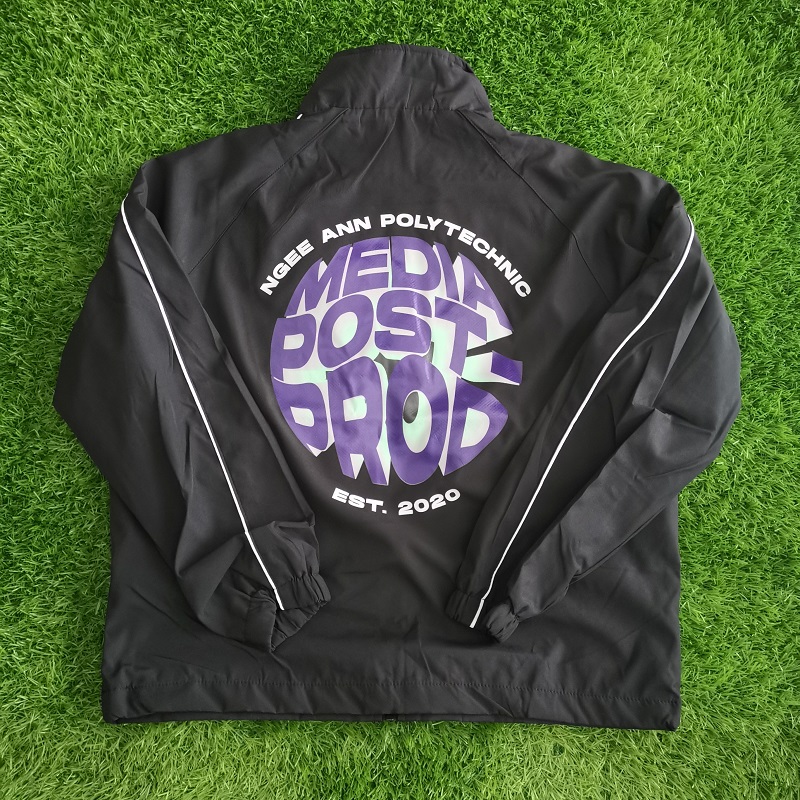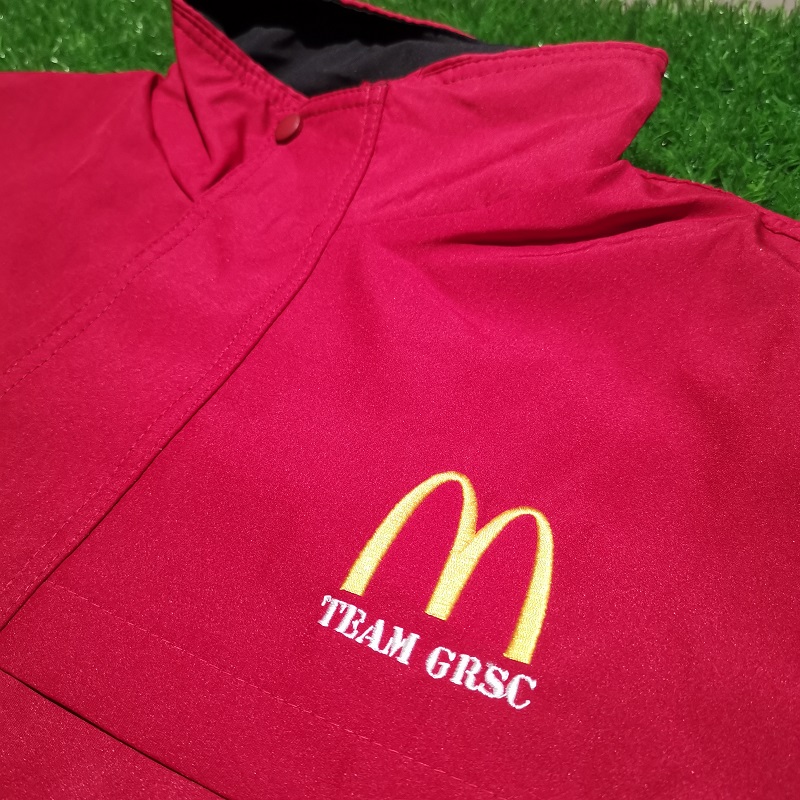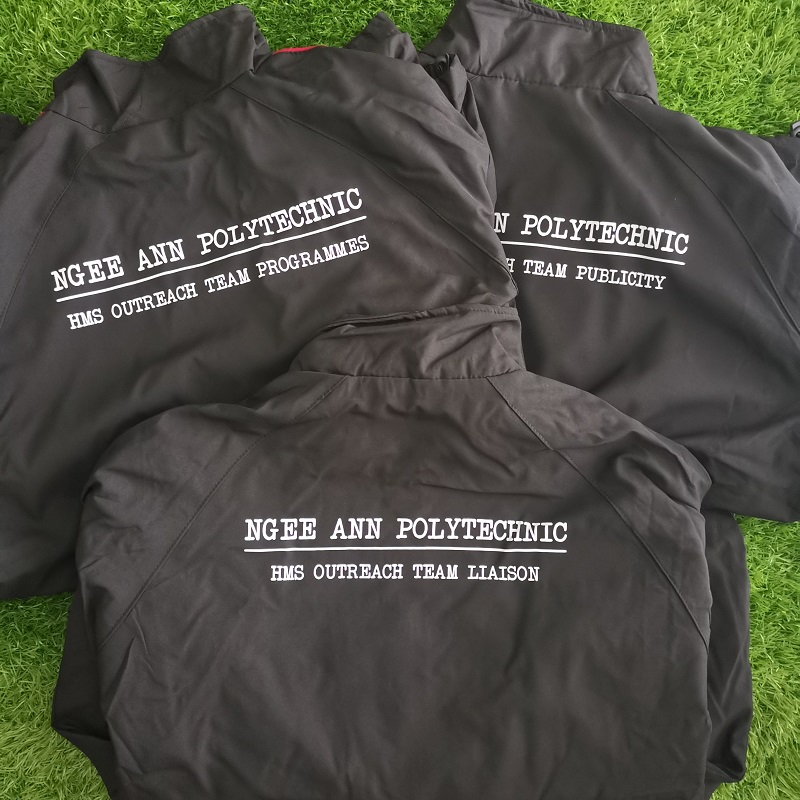 What are Windbreakers made of and how does it keep you warm?
Windbreakers are made of 100% High Density Polyester. They have a smooth finishing which makes it look more professional.  For single side windbreakers, we have two different types of inner lining which can be served for different purposes.


A) Inner Mesh / Netting lining
The inner netting creates an airflow movement and makes it more cooling for wearing. With this feature, they are popular choices among sports CCA jacket or for warm up jackets. They can be worn along for sports usage too.


B) Inner Smooth Lining
The inner smooth lining acts as a layer to trap air and keeps you warmer in air-conditioned environment. The silky smooth inner material makes it comfortable for wearing as an outerwear too. After all, they are still suited to Singapore's weather because windbreakers are generally not thick but rather light-weighted.


Traditionally, windbreakers are made of Nylon material. They are tougher material and due to the heaviness of the material, it creates a "squishy" sound when put on. In present times and with advancement of technology, windbreakers are made of polyester material which went through different production processes to become what they are now – light and wind resistant.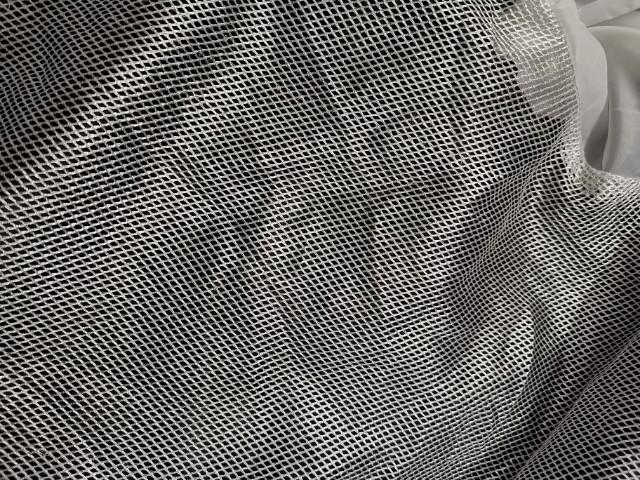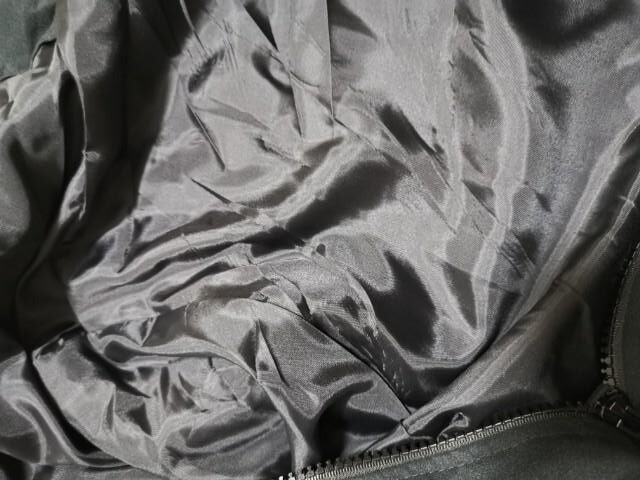 Which Windbreaker Should I Choose?
We suggest considering the feature of the windbreaker and the usage of it. For Example, assuming you are an instructor managing a CCA club of a school and looking to produce a team jacket. Are you expecting your participants to wear it for indoor/outing/performance/remembrance or is the purpose to showcase a common identity.


With this answer, we will be able to suggest the type of windbreaker and printing service or embroidery according to your budget.


There are different types of Windbreakers available for you to choose. Our catalogue comprises Single Side Windbreaker (WB04,WB05,WB06), Reversible Windbreaker (WR01, WR03 and WR04) and Vest Windbreaker.


Our single side windbreaker comes in classic colours that will never go out of style. The WB04 comes with an aesthetic strip by the side while the WB05 comes with coloured trim side line for a more polished look. Both models are our best sellers for corporate orders.


The WB06 windbreaker comes with net inner lining for better airflow circulation, this model remains a popular choice for school athletics, for exercise and CCA.


The reversible series WR01, WR03 and WR04 are available in classic colours and come in an array of colour trim designs on the shoulder or stripes. All of which are customisable using different methods through silkscreen printing, heat transfer and embroidery. Furthermore, for reversible windbreakers, you can choose to print / embroider on one or both sides. For both sides printing, you can choose to print a different design too!
Single Side Windbreaker or Reversible Windbreaker?
Both the windbreakers function the same. Available in classic colors or simple trimming designs for elevated look.


The Reversible Windbreaker means you are getting two for the price of one where you can switch around according to your mood or style any day. Another interesting point to note is that, in order for it to be printable on both sides, reversible windbreakers are constructed with an additional layer of material – wearing two light weight jackets at one time. With that, a reversible windbreaker tends to be heavier than a regular Single side Windbreaker.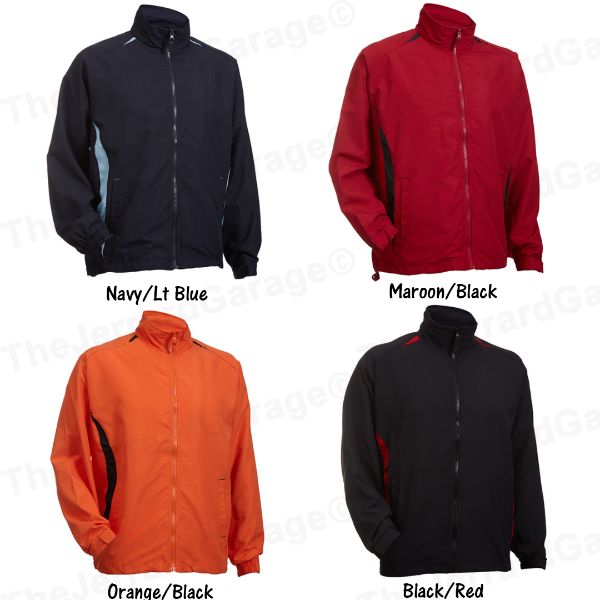 Print or Embroidery?
Embroidery is a very popular option among corporate company uniform jackets or school events. Reason being, they look very professional and makes your identity stands out. They are also more cost effective for multiple colours design in small quantity orders (20 pieces and below). Whether you are a small medium enterprise business or student, this is an option you can consider. Furthermore, the cost of the embroidery does not increase with additional number of colours. This is a great choice if your design is not complicated and does not require special effects.
Another good reason for embroidery on reversible windbreakers is that you do not have to worry about the stitches on the back. The is an additional layer to hide the stitches.
If your design requires vibrant colours, Silkscreen is the way to go for vibrancy and durability. Be spoilt for choices on the color availability as they are able to match according to pantone colour.
Another print option to consider is the Heat Transfer which comes with unlimited color choice. Although cost effective for small quantities that require multiple colour designs, it is not as durable as silkscreen printing or embroidery.
Fret not, at TJG Print, we are capable of doing all these print methods. You can mix and match (For example, front design to be embroidered and back design to be in silkscreen). We specialize in windbreaker printing and we are confident you will have a peace of mind printing with us.
If you are interested to find out more about the different printing services, you can check out our other blog postings on every tips and guide.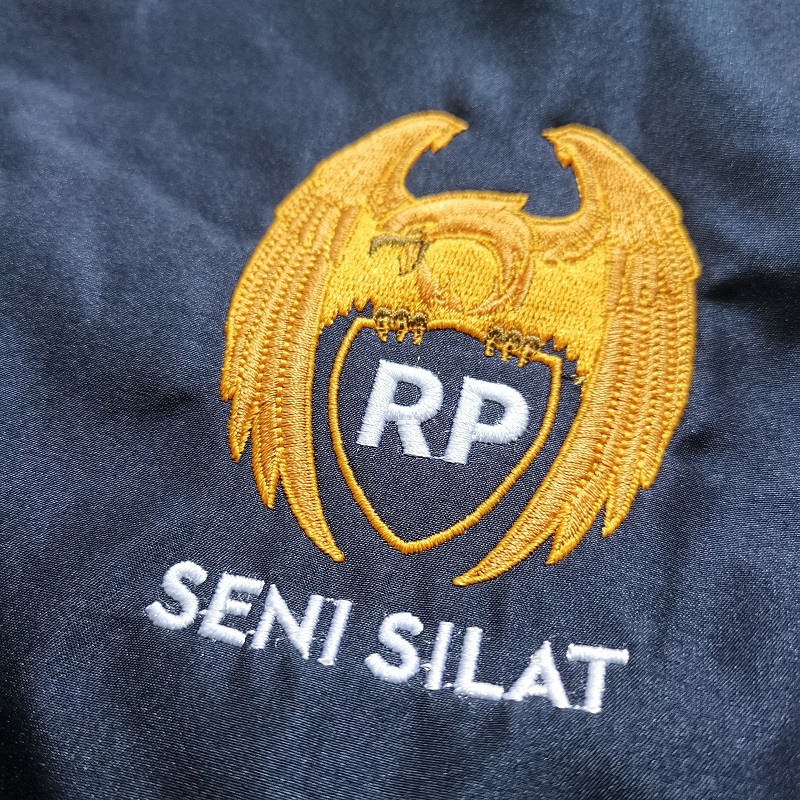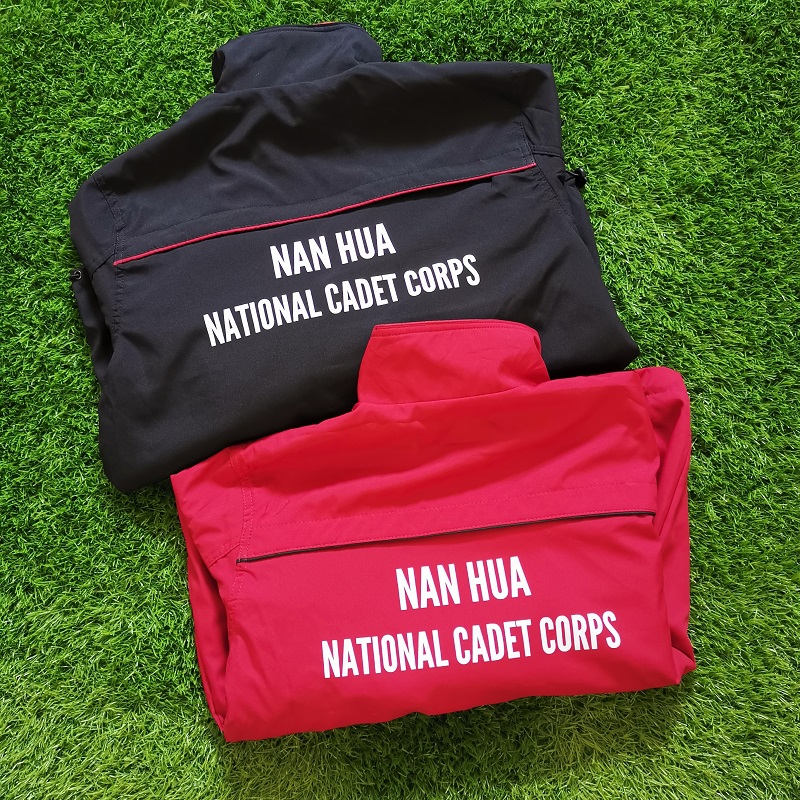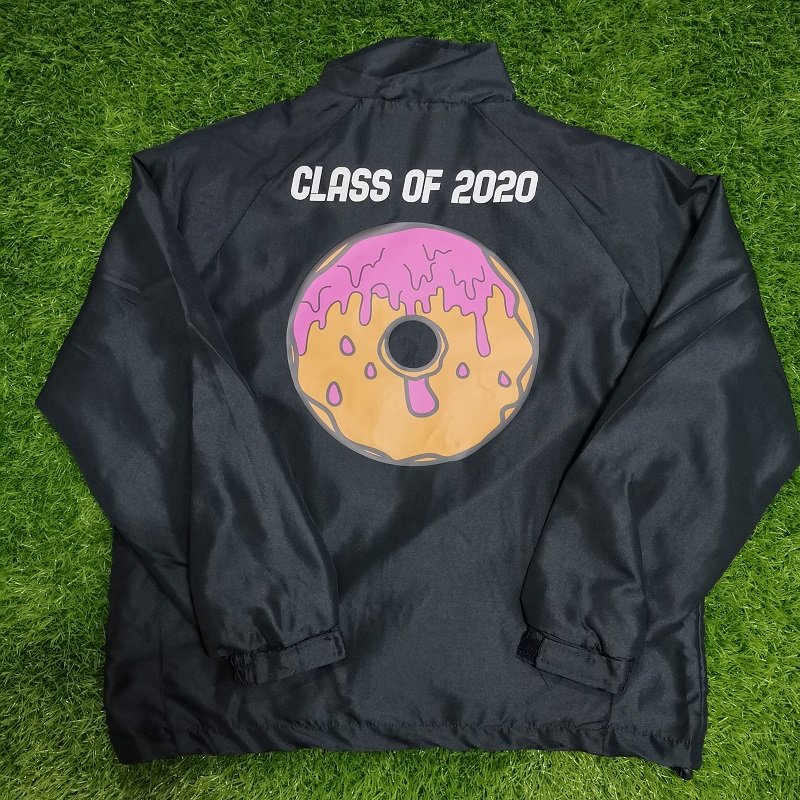 Digital Heat Transfer Example
To help you get your order faster, we have included some common FAQs.
Question: How long is your lead time?
Question: what is your minimum quantity?
Question: How is the pricing like?
Question: How do I get started?


Answer: Simply drop us an email or whatsapp us with the following details:
1. Quantity
2. Design
3. Expected Delivery date
TJG print also offers customisation on other items too. Some of our products includes Dri Fit T-shirt, Cotton T-shirt, Jacket/Hoodies, personalised gifts (tote bag, lanyard, water bottle). If there's any product that you are unable to find on our catalogue, feel free to reach out to us at [email protected].