Sitting in the heart of Queestown, Queensway Shopping Centre has been around for 45 years. This iconic building is part of Singapore's heritage. Although the mall does not have a fancy Cinema or supermarket, they have earned the reputation as Singapore's sports mall and printing services mall. Queensway Shopping Centre remains as one of the most popular vintage malls that offers a wide range of sports related equipment, sports shoes, limited edition apparels, t-shirt printing services and delicious food.  
How does the Queensway shopping centre preserve it's unique identity?
MacDonald's Queensway
The iconic MacDonald on Level two has been there for the longest time. To start off, we head there for a quick lunch before embarking on our shopping spree.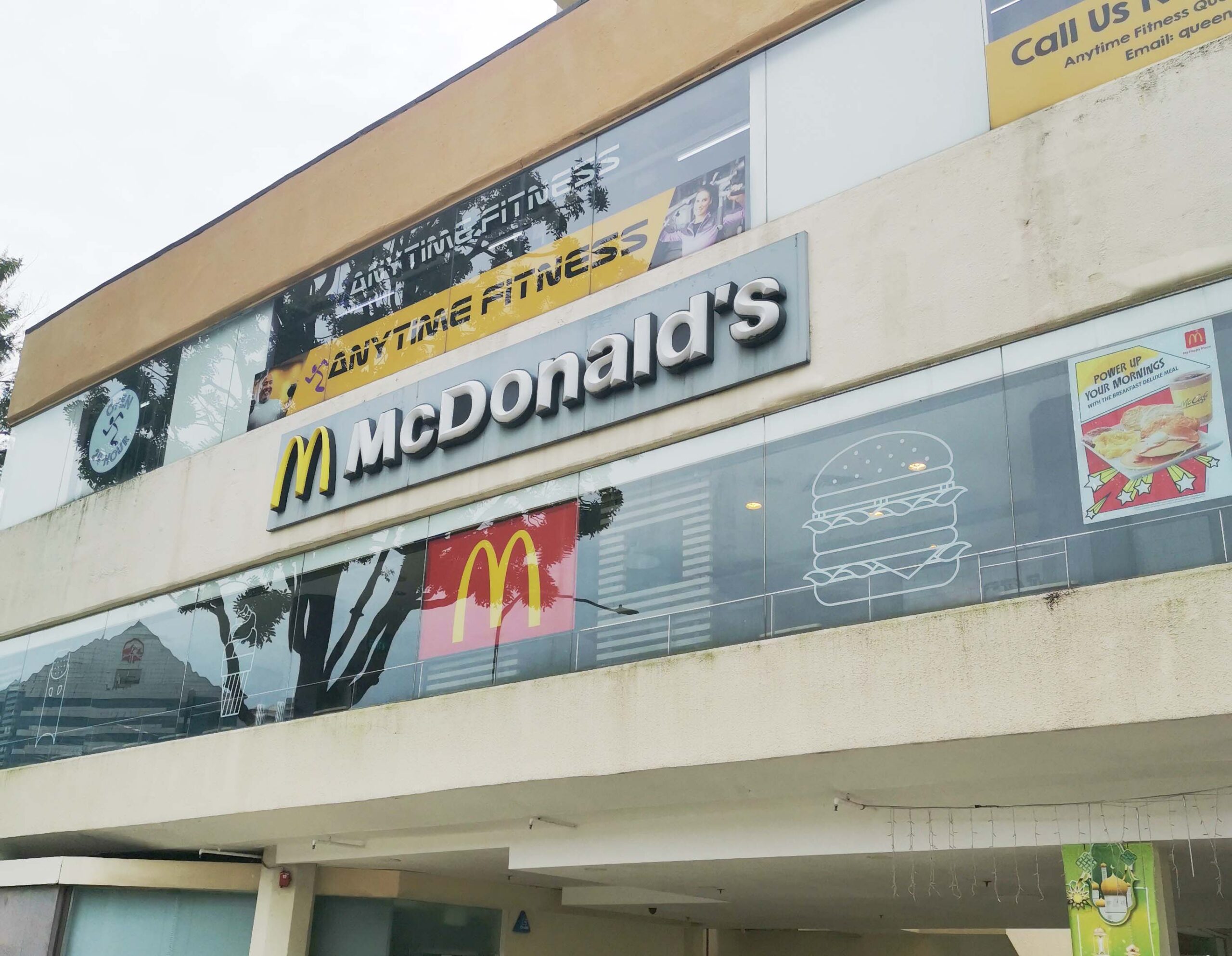 Queensway Lau Tan Tutu Kueh 
Queensway Lau Tan Tutu Kueh started their first outlet in the 1980s at Queensway Shopping Centre selling a variety of Local Heritage Street snacks such as Muah Chee, Tea Eggs, Cup corn, Waffles, Curry fish balls. If you happen to be there, be sure to grab some of these snacks before leaving the mall. You just got to prepare some buffer time due to the snaking queue. Located on the 2nd Floor (#02-47)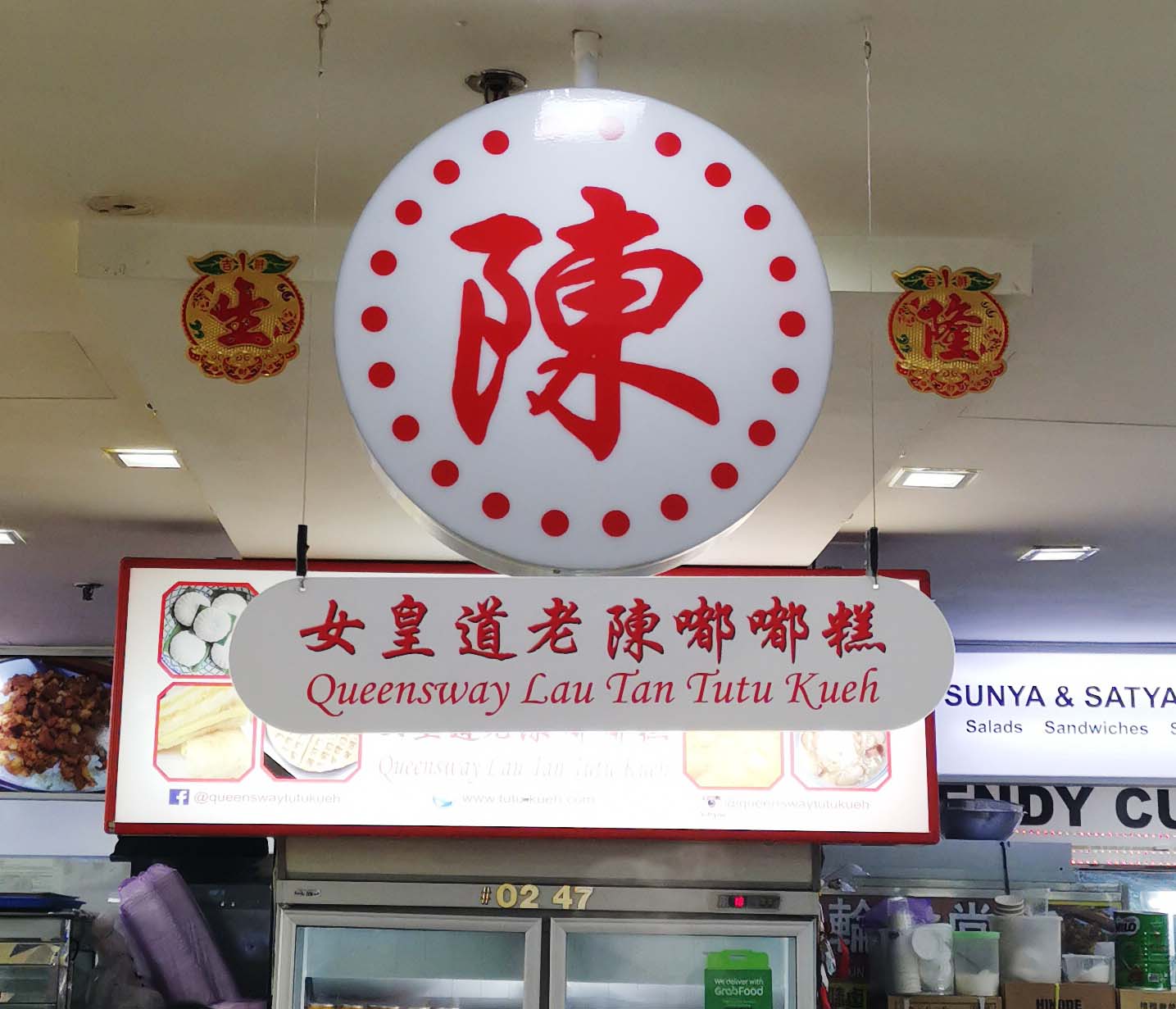 Laksa
While Janggut is a rebranded food stall from the original makers of Katong Laksa. We learnt that their food retains its quality and authenticity of the original noodle dish. Interestingly, Its competitor, 328 Katong Laksa seats in close proximity to each other. Try out for yourself!
Eyewear
Glimpse into Queensway Shopping Center and you can find various spectacle shops selling extremely affordable reading glasses and sunglasses. 


Weston Corp

Weston Corp's first iconic football store has been in Queensway Shopping Centre since 1992. It has been the go-to place for avid football lovers. Even big superstars like Eric Catona and Pele visited Weston to help showcase their product. Ranging from Club's merchandise, soccer boots, rare and vintage soccer jerseys, you can find any soccer related products. 
Liverpool Official Store

Liverpool Fans rejoice ! Liverpool second retail store have paved it's way into Singapore. The official flagship store is in partnership with Weston Corp to bring Liverpool fans closer to Anfield. The wide collections of merchandise allows fans to indulge in their Liverpool fantasy. The opportunity to grab the latest jerseys, vintage jerseys, signed merchandise, pictures of players, homeware and more.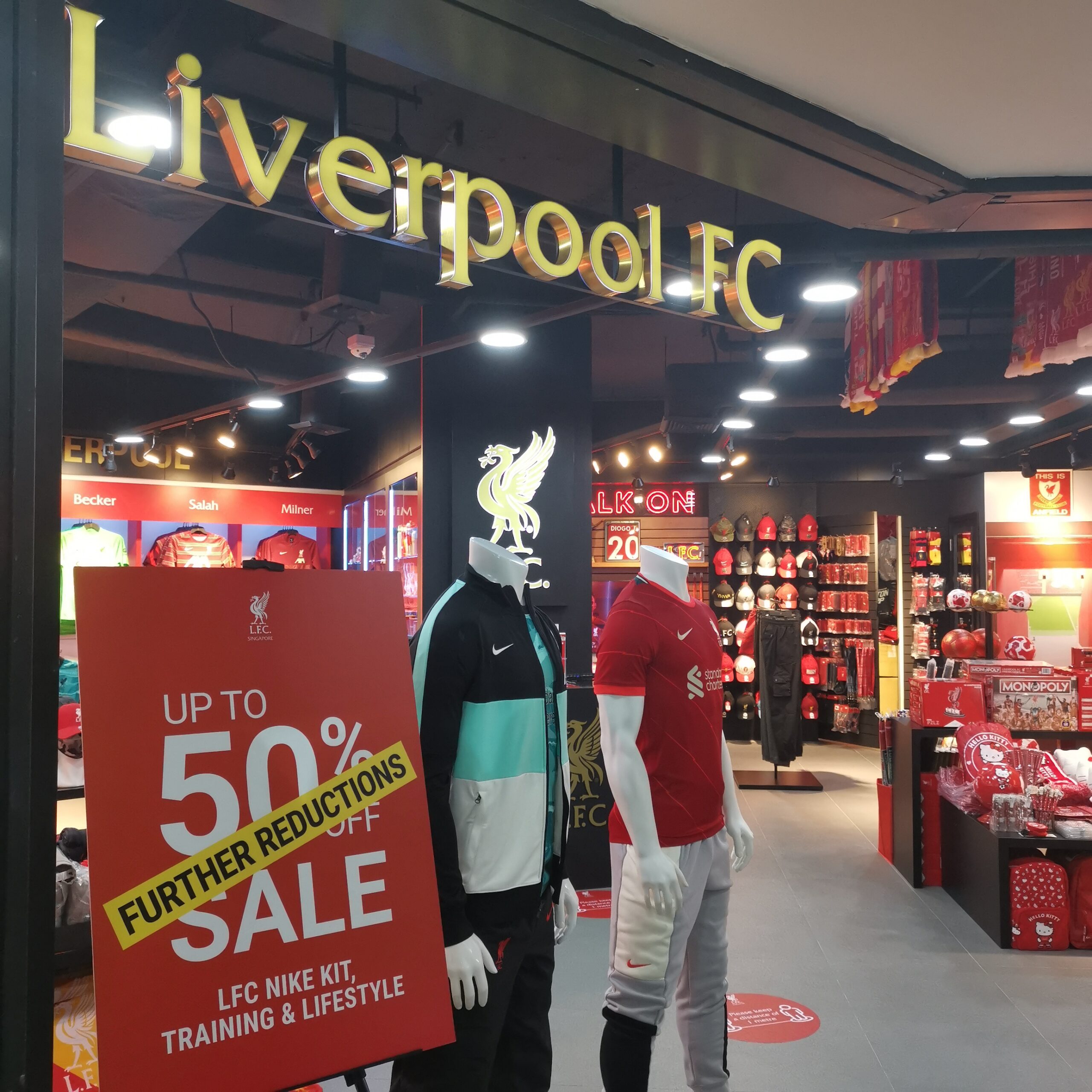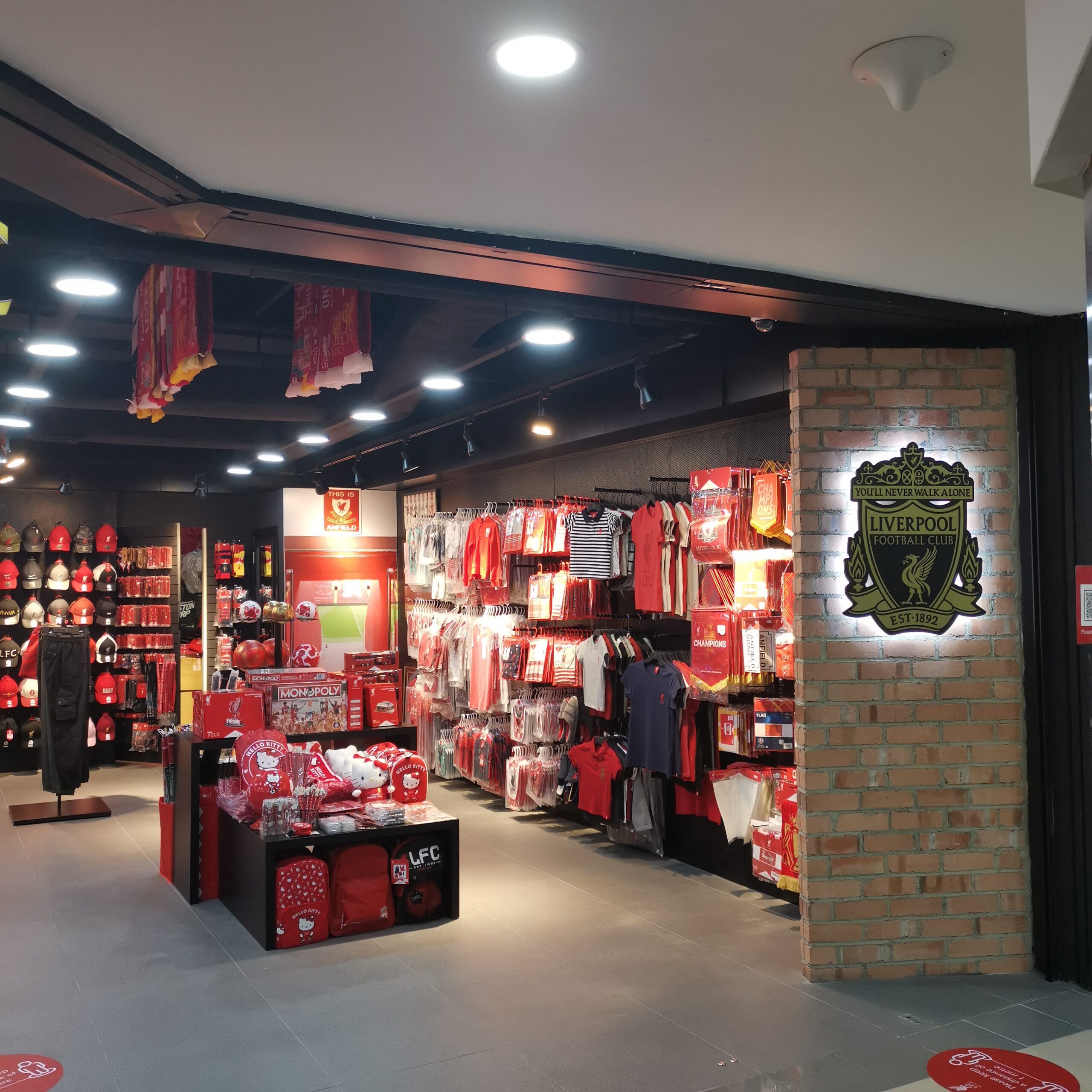 Branded sneakers 
The main draw of the shopping complex will delight sneakers fanatics! Whether you are contemplating to get your *uncountable* pairs of kicks, you are bound to find a pair at Queensway Shopping Centre. They are stock with brands like Nike, Adidas, Vans, Puma and more. 
Sports Apparel & Equipment

Gear up and be ready for your sports! Queensway Shopping Centre offers branded sports apparel at cheap and affordable pricing. You can find any sports related goods under the sun without breaking your bank. Swimming, soccer, tennis, badminton, running, rugby, hockey, basketball, you name it, they have it ! Pro tip : Remember to check for discount !
Anytime Fitness

Be sure to hit the gym and sweat it out. Located on the 3rd Floor (#03-51)
Customise Sports Apparels 
Are you thinking of customising apparel for an event or an occasion? At the 2nd and 3rd floor of the complex, you can find a myriad of printing service providers where you can compare prices. If you don't have large orders to print, I am sure you would be able to find one that is able to print small quantities on the spot too.

1) Queens Printing 
Located on the 2nd floor of Queensway Shopping Centre, Queen's specialises in printing class tees, company polo tees, sports t-shirt, and team sports jersey. 
Opening hours
Mon-Fri: 12:30pm-8pm 
Sat: 12:30pm-6:30pm
Sun: Closed 
Address: #02-40B Queensway Shopping Centre, 1 Queensway, Singapore 149053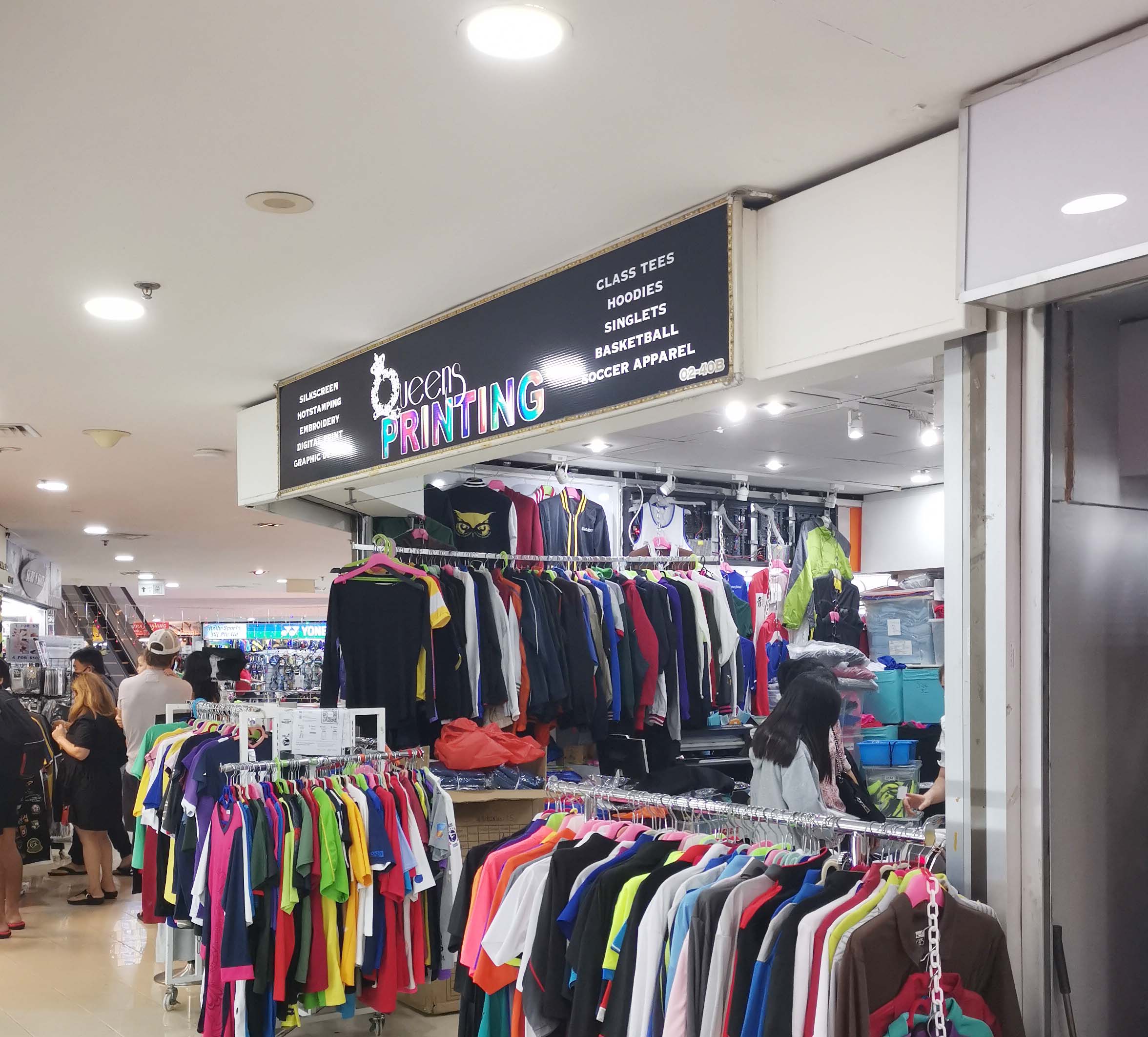 2) 98 Designs Embroidery Services 
There are many ways to wear your identity on a shirt and embroidery is one of the other methods you can consider. 
As the name suggests, they provide embroidery services, printing and silkscreen print services on customised apparels, caps, towels, T-shirts, bags, corporate gift printing.
Opening hours
Mon-Sat: 2pm-6pm
Sun: Closed 
Address: 1 Queensway, #03-01F, Queensway Shopping Centre, 1490532)
3) TJG Print 
Even though Queensway Shopping Centre has been a go-to place for Custom T-Shirt Printing, we offer a unique approach of reaching through e-commerce. Our office is located in the West (Bukit Panjang) for sample viewing which creates an omni-channel presence. TJG print specialises in custom printing for Class T-Shirt, Polo Shirts, full sublimation jersey printing and silkscreen printing. Our catalogue includes a varied range of apparels as well as gift products.
One of our most popular print request among students are the Custom Name and Number printing, as we use high quality PU vinyl for its durability. 
We offer extensive print service to corporate companies as we are able to do cut & sew customisation of apparels for your corporate branding. Otherwise, we can also print on our ready stock catalogue. Feel free to Whatsapp us or drop us an email [email protected] 
Opening hours
Mon-Fri: 10am – 6pm
*Strictly by appointment only. Contact us at 87740792.
Sat, Sun & PH: Closed 
Address: 184 Jelebu Road, Singapore 670184
4) SGL Sports & Imprint 
For t-shirts, personalise gifts like photos printing on caps and mugs. Head over to the 3rd floor of Queensway shopping center.
Unfortunately, we couldn't provide more information about their service as there is limited information on their Website. 
Opening hours unavailable from Google. Click here to get in touch with them. 
Address: Queensway, #03-03, PQR Queensway Shopping Centre, 149053
5) Ultra Supplies
Occupying 15 units on Level 3 of Queenstown Shopping center, Ultra Supplies offer full gamut of printing services for media printing such as Book Binding, Banner printing, Card printing, Document printing, Photocopying, Poster, Stickers and tee shirt printing. 
Do note that for tee shirt printing, their method of printing is Vinyl Heat Transfer. At the time of writing, we are not sure if this is still the only method offered. So do check in with their customer service team in case they have added more printing options.
Opening hours
Mon-Sat: 9:30am-8:30pm
Sun & PH: 10am-8:30pm
Address: No. 1, Queensway #03-38/39 (Office) #03-37/45 (Main Service Counter)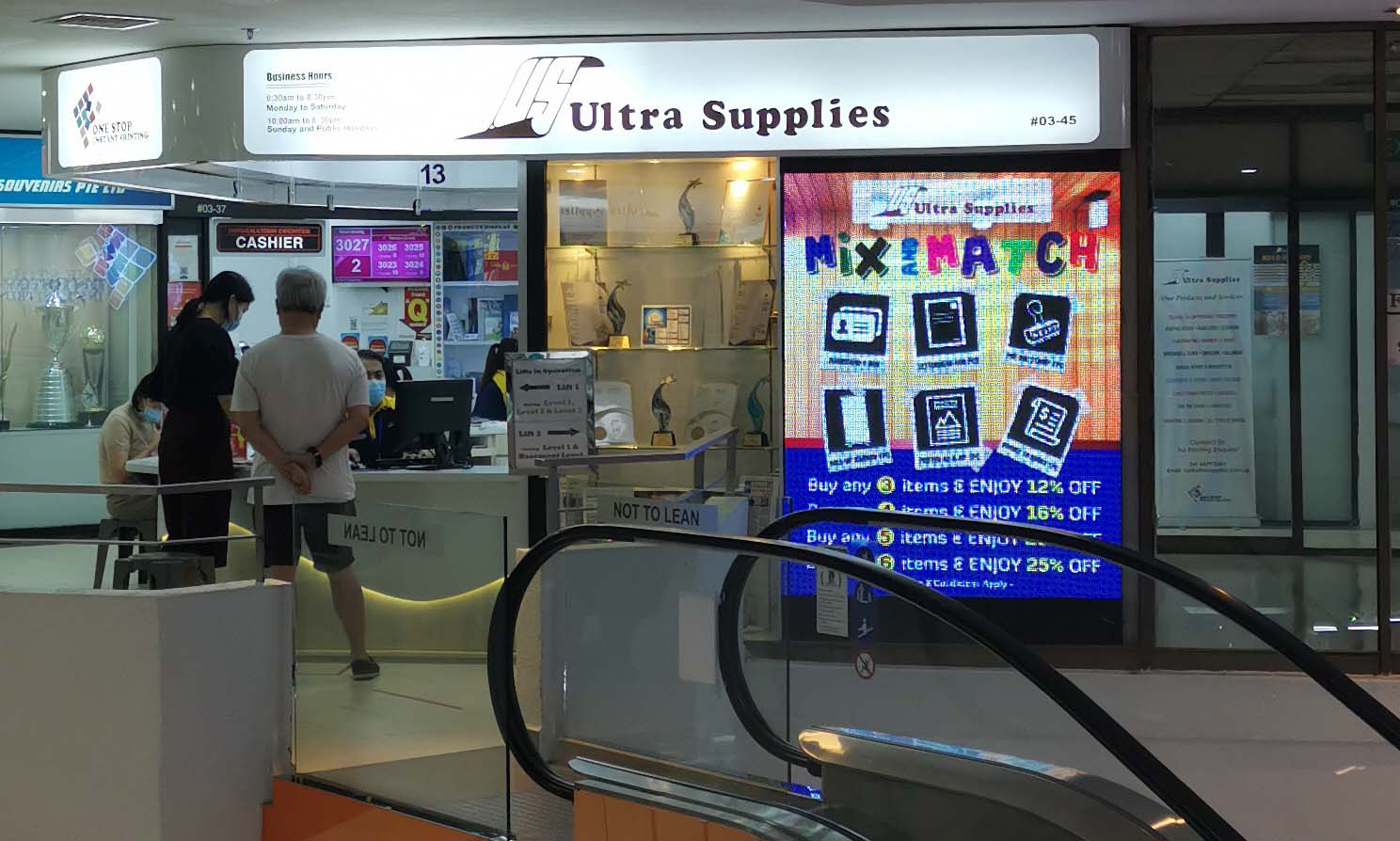 For Customise printing services like Gifts & Souvenirs

Alpha Plus Gifts & Souvenirs Pte Ltd

Occupying three units on the 3rd floor of Queensway shopping center, Alpha Plus Gifts & Souvenirs offers a wide range of sports trophies and cups, recognition plaques, sports medals. They also provide full service support in the form of computerised engraving, 3D inner laser engraving, sandblasting, full colour printing on many surfaces and materials. 
Trophy making
If you are looking at producing commemorative items such as trophies, cups, plaques, medals. Queensway Shopping Centre is where you can find different suppliers. In addition, they provide full customisation support such as engraving, laser engraving, sandblasting and full colour printing on different surfaces and materials. 
This blog is neither an exhaustive list of what Queensway Shopping Centre has to offer or claim to feature the best offers. 
Head down to experience the atmosphere yourself and check out what each shop has to offer. 
How to get there? 
Address: 1 Queensway, Singapore 149053
Opening hours
Monday to Friday, from 08:30 AM till 05:00 PM
Saturday, from 08:30 AM till 12:30 PM
Closed on Sunday and Public Holiday
Getting there by Bus
Bus Stop – after Queenstown NPC HQ (Stop #11021), Bus Number 51, 61, 93, 100, 123, 147, 153, 196, 198, 855, 961(C).
Bus Stop – Opposite Queensway Shopping Centre (Stop #11519), Bus Number 14, 33, 51, 61, 93, 100, 120, 195(A), 197.
Bus Stop – Alexandra Hospital (Stop #11511), Bus Number 14, 33(A), 51, 61, 93, 100, 120, 195(A/B), 197.
Getting there by Train
MRT – Queenstown (EW19), transfer to Bus Number 51, 195(A/B).
MRT – Redhill (EW18), transfer to Bus Number 33(A), 120.
Get there by Foot
Approximately 10-15 minutes walking distance from both train stations.